Chart Update: Rita Ora & Flo Rida Are Both Prepared For An EPIC Chart Battle
25 June 2015, 09:04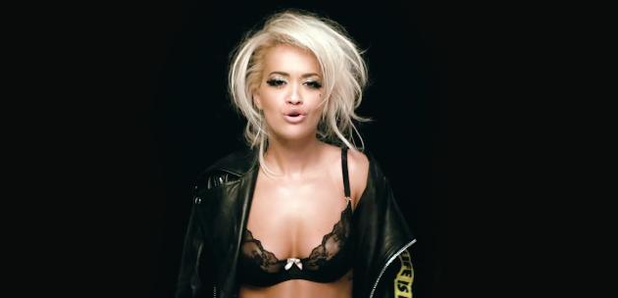 Tinie Tempah will have to be watching his back this weekend if he's to defend his No.1 single. The big guns are on their way!
Jason Derulo was finally knocked off the top spot after an incredible run of FOUR weeks at No.1. Who was the man to dethrone Mr. Derulo? Tine Tempah of course! His collaboration 'Not Letting Go' featuring Jess Glynne took pole position only hours after it was released.
However this weekend is going to be one of the biggest battles for No.1 we've had so far in 2015. Flo Rida's 'I Don't Like It, I Love It', Rita Ora's 'Poision' and Pitbull's 'Fun' are all ready to seize the chart.
Have a look at the tracks with a chance of bagging themselves the next No.1 single:
The CURRENT No.1: Tinie Tempah feat. Jess Glynne - 'Not Letting Go'
Can the British duo hang on to their No.1 spot for another week? Jess Glynne has an AWESOME track record with Big Top 40 hits; could this be another epic run at the top?
Rita Ora - 'Poison'
Apart from the fact that this is one of the sexiest music videos in a long time, the track itself is an absolute blinder. If this is a taste of what is to come for Rita's second album then we are in for a real treat.
Pitbull feat. Chris Brown - 'Fun'
It seems like Chris Brown is popping up everywhere at the moment and you know what...we're okay with it! Fresh off the chart success of 'Five More Hours', Brown is back with a classic Pitbull party anthem collaboration.
Flo Rida feat. Robin Thicke - 'I Don't Like It, I Love It'
Ohhh yeaaaah. This Sunday is going to be a party indeed. Not only is Pitbull releasing a new single, Flo Rida's 'I Don't Like It, I Love It' should feature too. The music video was premiered this week and amassed 2 MILLION views in its first two days.
Jason Derulo - 'Want To Want Me'
Come on now, you can't expect a 4-week No.1 single not to be in with a chance to go straight back to the top.
Also be in with a chance to win tickets to 4 of the BIGGEST artists in 4 of the best cities around the world. Click on the image below for all the details regarding out #TakeTheTour competition.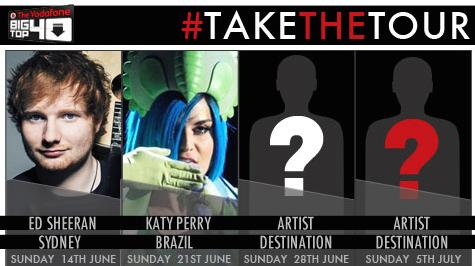 Remember to tune in at 4PM on Sunday to see who will be battling for the top spot.