Uh Oh… Scotty T Has Hit Back At The Haters Who Criticised His Acting & Dancing In Panto
12 December 2016, 12:28 | Updated: 4 December 2017, 11:10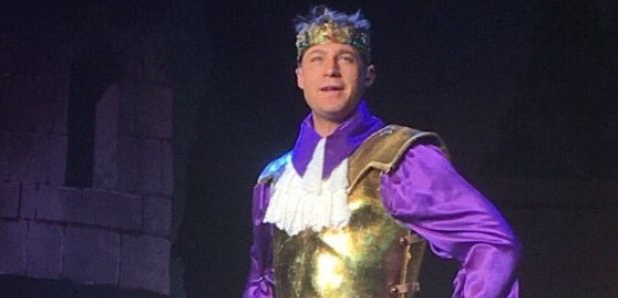 Scott's turn as Prince Charming has had mixed reviews, but he's stuck up for himself on Twitter.
Scotty T might be taking a little break from Geordie Shore, but he's definitely keeping himself busy in the meantime… by treading the boards in panto as Prince Charming in Snow White.
However, Scott's turn on the stage has come with mixed reviews, and the Geordie hunk took to Twitter to hit back at the haters that slated his acting and dancing:
People in £10 dresses and travel lodge rooms and cheap fake tan shouldn't throw stones https://t.co/NBkr6T6qd4

— Scotty T MBE (@ScottGShore) December 10, 2016
There has been a very mixed reaction to Scott's role, with some fans hating it:
Why am I at scotty t's panto tho really

— ami (@amicharles) December 9, 2016
Scotty T in panto is the worst thing I have ever witnessed!!!! The whole show is a disaster!

— Katie Rose O'Brien (@katierosenew12) December 8, 2016
Are people really shocked that Scotty T is crap in panto? As much as I love him, his talents are getting drunk and shagging on tv. Come on!

— Samantha (@ItsMeBates) December 11, 2016
Why is Scotty T playing Prince Charming in a panto in Leeds pls

— sarah haworth (@sarahhaworthx) November 11, 2016
… while other fans couldn't get enough of it:
Scotty T doing panto has made my night

— Mermaid Queen (@em_gm96) November 21, 2016
After going to the panto, I think I'm even more inlove with scotty t the absolute beaut!!!!

— bobbie leigh roe (@bobbbieroe) December 10, 2016
Need to go see scotty t in panto

— Laura (@LauraAnne_5) December 11, 2016
@ScottGShore Instead of having a go -why not just GO- and have a great night with Scotty T in Panto, you will love it!!!

— Kenny D (@DJKennyD) December 12, 2016
He might not be an actor by trade, but we reckon Scott's doing a pretty good job of panto so far – and it's safe to say he won't let the haters get him down, either!