Who Is Sonny Jay? Capital DJ's Career, Social Media And Age Revealed
25 September 2020, 08:11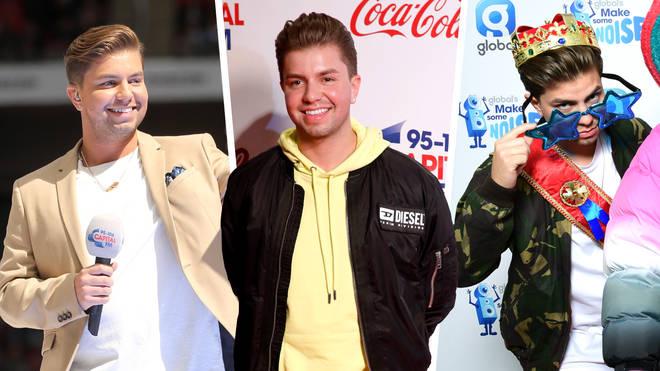 With Sonny Jay joining the Dancing on Ice 2021 line-up, you need to get to know everything about the Capital Breakfast with Roman Kemp co-host.
Capital presenter, Sonny Jay, has been waking up the nation with Capital Breakfast with Roman Kemp from 6AM every weekday, but now he's swapping the headphones for head-bangers, as you are set to spot him in sequins on Dancing on Ice.
We're taking a look at all the important facts you need to know about who Sonny is, from his social media to his Britain's Got Talent beginnings.
Here's everything you need to know:
What does Sonny Jay do at Capital?

In 2017, Sonny Jay joined Capital, initially presenting overnights before joining Roman and Sian Welby as co-hosts of Capital Breakfast with Roman Kemp.

He has gone on to interview celebrities such on the BRITs red-carpet, as well as sitting down with the likes of Kevin Hart, Jason Momoa and Zendaya.

Sonny Jay has also hosted many of our huge events, including Capital's Summertime Ball and Capital's Jingle Bell Ball, and - most recently - he presented Capital's Best of the Summertime Ball to millions of viewers.

Is Sonny Jay a musician?

Sonny Jay actually rose to fame in 2012, as he auditioned on Britain's Got Talent with his London-based band, Loveable Rogues.

The band - which also includes Eddie Brett and Te Qhairo Eugene - performed two original songs, 'Lovesick' and 'Honest'.

Sonny Jay auditioned on Britain's Got Talent with his band, Loveable Rogues.

Picture: PA Images

Loveable Rogues finished in fourth place, behind the winning British dog act, Ashleigh and Pudsey.

They were then signed to record label Syco Music and supported Olly Murs on his 2013 Right Place Right Time arena tour.

Is Sonny Jay single?

Sonny Jay actually got engaged to his girlfriend, Lauren Faith, as the pair set off on a boat alone in Greece.

Writing to his 37.7k Instagram followers, Sonny Jay said "SHE SAID YES ❤️❤️ Couldn't be happier to spend the rest of my life with the most beautiful soul I know. [Lauren Faith I love you so much xx"

On April 17, Sonny and Lauren celebrated their anniversary; three years after Sonny Jay "turned up to [Lauren's] house with a bunch of flowers asking you to be mine."

In old Instagram captions, Sonny has celebrated all that they've accomplished in the past, and has said "Thank you for being the best support I could ever ask for!"

Can I follow Sonny Jay on social media?

Sonny Jay is very active on social media, and you can follow him on Twitter; his handle is @SonnyJay, and you can follow him on Instagram; his handle is @sonnyjay.

Can Sonny Jay ice skate?

Sonny Jay used to ice-skate once-a-month on a Friday night with his friends at a rink in Romford.

We'll have to see how his practise pays off when he skates on Dancing on Ice alongside his fellow Global host, Myleene Klass, as well as the likes of Jason Donovan and Denise van Outen.

Sonny Jay has been a part of Capital since 2017.

Picture: PA Images

How old is Sonny Jay?

Sonny Jay is 27-years-old, and was born on 30 June, 1993

Does Sonny Jay have any siblings?

Born and raised in London, Sonny Jay grew up with two siblings - his sister named Seri (29), and his brother, Elliot (31).

Does Sonny Jay have a Guinness World Record?

On 25 October 2019, Sonny Jay achieved the most Justin Bieber songs identified from their lyrics in one minute, scoring a whopping total of 22.

He joined Roman Kemp who is also part of the 'GWR Club'.

Sonny Jay received a Guinness World Record for his Justin Bieber knowledge.

Picture: Capital