Who Is Sonny Jay? Capital DJ's Girlfriend, Instagram And Age Revealed
29 January 2021, 14:25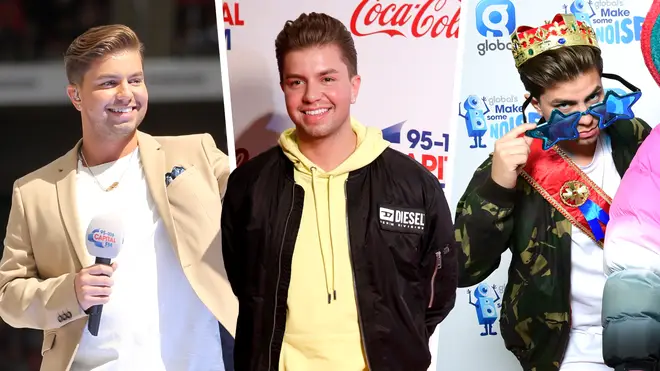 Sonny Jay is part of the Dancing on Ice 2021 line-up! But who is his girlfriend, what's his Instagram and what's his age?
Sonny Jay has been waking up the nation with Capital Breakfast with Roman Kemp from 6AM every weekday, but now he's swapping the headphones for head-bangers and starring on Dancing on Ice 2021.
But who is his girlfriend? What's his Instagram handle and what's his age? Let's take a look...
Dancing On Ice: What Is The Golden Ticket & How Does It Work?
Who is Sonny Jay's girlfriend? Who is he in a relationship with?

Sonny Jay actually got engaged to his girlfriend, Lauren Faith, in the summer onboard a boat in Greece.

Announcing the news on Instagram at the time, he said: "SHE SAID YES. Couldn't be happier to spend the rest of my life with the most beautiful soul I know. I love you so much xx"

On April 17, Sonny and Lauren celebrated their anniversary; three years after Sonny Jay "turned up to [Lauren's] house with a bunch of flowers asking her to be mine."

In old Instagram captions, Sonny has celebrated all that they've accomplished in the past, and has said "Thank you for being the best support I could ever ask for!"

How old is Sonny Jay? What's his age?

Sonny Jay is 27-years-old, and was born on 30 June, 1993.

What is Sonny Jay's Instagram handle?

Sonny Jay is very active on social media and his Instagram handle is @sonnyjay.

How is Sonny Jay famous? What's his job?

In 2017, Sonny Jay joined Capital, initially presenting overnights before joining Roman and Sian Welby as co-hosts of Capital Breakfast with Roman Kemp.

He has gone on to interview celebrities such on the BRITs red-carpet, as well as sitting down with the likes of Kevin Hart, Jason Momoa and Zendaya.

Before that, he auditioned on Britain's Got Talent, back in 2021, with his London-based band, Loveable Rogues.

The band - which also includes Eddie Brett and Te Qhairo Eugene - performed two original songs, 'Lovesick' and 'Honest'.

Zendaya Wants To Sing Michael Jackson In Her Own Carpool Karaoke 🚗 | FULL INTERVIEW | Capital

Sonny Jay has also hosted many of our huge events, including Capital's Summertime Ball and Capital's Jingle Bell Ball, and - most recently - he presented Capital's Best of the Summertime Ball to millions of viewers.

Does Sonny Jay have any siblings?

Born and raised in London, Sonny Jay grew up with two siblings - his sister named Seri, 29, and his brother, Elliot, 31.

Sonny Jay Challenges John Boyega To A Bad Joke-Off...