3 TikTok Make-Up Trends That Shouldn't Work But Do
1 February 2023, 17:18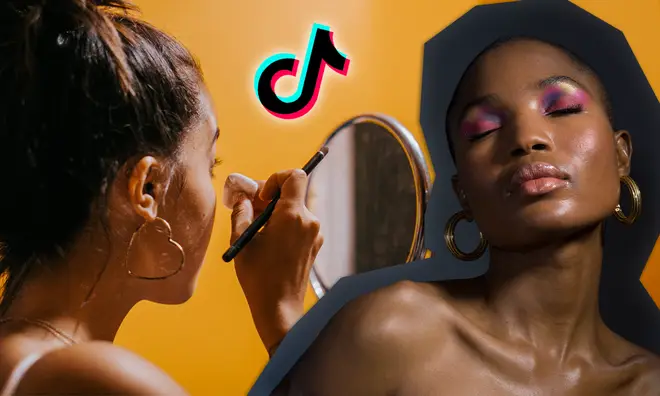 Let's take a closer look at some of those unique make-up trends circulating TikTok, are they as crazy as they seem or could they actually work?
TikTok really is the gift that keeps on giving, from comedy to music to beauty, you can find pretty much any type of content on the short-form video app.
One thing that TikTok never fails to produce is a good old beauty trend – and some of them look a little suspect at first glance.
Pop Star Picks: Books, TV & Films Recommended By Taylor Swift, Harry Styles, Zendaya & More
From the outrageous to the tried and true, here are some make-up trends that actually deliver! You might just have to try them for yourself...
Make-up artists swear by #pinkundereyetrend
Blush is undeniably a make-up bag staple, but did you know that some content creators swear by using the product directly under your eyes?
TikTok users have been using every peachy and rosy blush they can find to give themselves that coveted bright under-eye look, with a twist.
The beauty hack first made waves last summer but in January it had everyone getting excited all over again as #pinkundereye was trending.
The wash of colour across the eye area is thought to appear as an instant natural facelift, giving a more sculpted look. Some make-up lovers have been following the trend to achieve a slight flushed look, whereas others have gone for a fully pigmented statement!
How you interpret the method is up to you, but in our opinion they both look stunning!
The seven-pump foundation method
Now, we understand that this one looks a little daunting!
Just the thought of applying that much product to our skin makes us feel like we could break out, but other naysayers have been converted since trying it... so maybe there's a method to the madness?
The trend was inspired by make-up artist Meredith Duxbury's unique foundation application process, which keeps going viral! She boasts a whopping 17.1 million followers on TikTok and is an absolute force in the beauty world.
After one of her tutorials racked up another few million views, it prompted users to give the heavy-handed approach a go! Countless videos show up under '7 pumps of foundation' on the app and more often than not, people are happy with the results once they blend all that product!
Meredith says herself: "Trust the process."
Water foundation works better than you think
Another beauty hack centred around getting a flawless, dewy base!
The foundation-in-water trick emerged on TikTok last year and quickly picked up steam as everyone just had to give this one a try.
The method goes like this: take your foundation of choice, squeeze a few pumps into a cup of water and then swirl the mixture that's settled at the bottom of your glass. Then dip a beauty spatula into the mix and get that water-infused product onto your face and buff out with a brush... interesting.
Many viewers were shocked whereas others couldn't way to give it a go, and some have every confidence in the unique routine!
There are hundreds of TikToks using the method and it seems the results can be pretty flawless, there are even claims that it can make your base water and transfer-resistant! We'll let you be the judge.
What TikTok trend will you be adding to your every day make-up routine?
> Here Are All The Ways You Can Listen To Capital