The Most Liked Instagram Posts Of All Time Revealed
9 March 2018, 11:02 | Updated: 9 March 2018, 11:14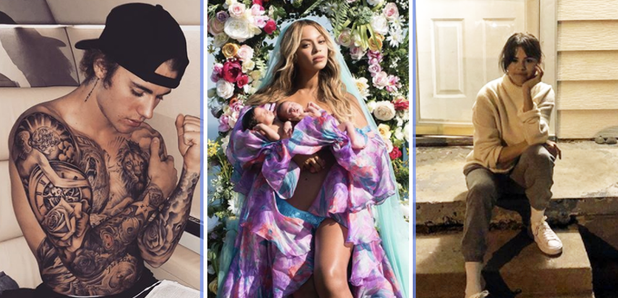 Beyoncé, Justin Bieber and Selena Gomez all make an appearance, but who's No.1?
Before we get this thing started, we need to let you know that from the top ten posts, SIX of them are connected to a birth or pregnancy announcement. Which means one thing, everyone LOVES a good celebrity baby!
> Turns Out Instagram Might Have Been Withholding Your 'Likes' All This Time
However, there are also a few wildcards in there including the world's greatest footballer Cristiano Ronaldo (yup, Messi where you at bro?).
Check it out:
1. Kylie Jenner - First photo of Stormi
This shouldn't surprise you. With over 15 million likes in the first day of posting, Kylie Jenner's first official photo of her little girl Stormi took the crown of the most liked Instagram photo from Cristiano and the birth of his fourth kid.
> Kylie Jenner Finally Announces The Birth Of Her Baby With Beautiful Tribute Video
2. Cristiano Ronaldo - Announcement of his fourth child's birth
We did tell you there were a lot of baby related posts in this didn't we. Yup, in second place is football superstar Cristiano Ronaldo, his son Cristiano Jr and his lady Georgina Rodriguez welcoming Ronny's fourth child into the world.
3. Beyoncé - Announcement of her twin pregnancy
Another baby post. Trust us, there is definitely something different coming soon ok? But we can't ignore Beyoncé's beautiful pregnancy announcement back in February 2017.
4. Selena Gomez - Kidney transplant
To say this post came out of the blue would be an epic understatement. Selena Gomez dropped the bombshell that she'd actually had a kidney transplant in September 2017 with her pal Francia as the donor. Truly heart-melting!
> Selena Gomez's Life Threatening Kidney Transplant Complications Have Been Revealed By Her BFF Donor
5. Kylie Jenner - Pregnancy/birth announcement
Before Kylie shared the snap of her daughter, she actually posted this note for her 103 million followers to understand exactly why she's kept her pregnancy quiet for so long. What a gem.
> Download Our App To Keep Up With The Kardashians (And Jenners) Every Single Day!
6. Beyoncé - Birth of her twins
Incredibly the actual birth of Bey's twins didn't overtake the pregnancy announcement however the introduction of Rumi and Sir Carter bagged her 10 million likes!
7. Khloe Kardashian - Pregnancy announcement
Another Kardashian, another baby. Soon enough they'll have the entire top 10 in the grasp. Khloe and her man Tristan Thompson swoop into the most liked Instagram posts of all time with their pregnancy annoucement.
8. Selena Gomez - Visiting her childhood home
Here's the ultimate wildcard. No pregnancy, no transplants. Selena's visit to her childhood home early in 2018 climbed its way into the most liked posts of all time with ease.
> Selena Gomez's Mum Has Finally Set The Record Straight About Their Relationship
9. Justin Bieber - New tattoo
Now we're talking! The tatted up Justin Bieber took a topless snap in January 2018 and within a month he'd piled up 8 MILLION likes, the #Beliebers are still in full force people!
10. Cristiano Ronaldo - 5th Ballon D'Or award win
Cristiano just can't stop taking on the musicians and reality tv show stars! His 5th Ballon D'Or equalled his rival Leo Messi's count of being named the best footballer on the planet and the photo shot up the rankings with 8 million likes!
The most liked Instagram posts of all time:
1. Kylie Jenner's first photo of Stormi
2. Birth of Cristiano Ronaldo's fourth child
3. Beyoncé's twin pregnancy announcement
4. Selena Gomez's kidney transplant
5. Kylie Jenner's pregnancy/birth announcement
6. The birth of Beyoncé's twins
7. Khloe Kardashian's pregnancy announcement
8. Selena Gomez visiting her childhood home
9. Justin Bieber's new tattoo
10. Cristiano Ronaldo winning his 5th Ballon D'Or
Check out which Instagram post topped the most-liked snaps of 2017...