Ariana Grande & Mariah Carey's Friendship Timeline: The Ultimate 'Where It Started' To 'How It's Going'
4 December 2020, 16:07 | Updated: 18 August 2022, 15:51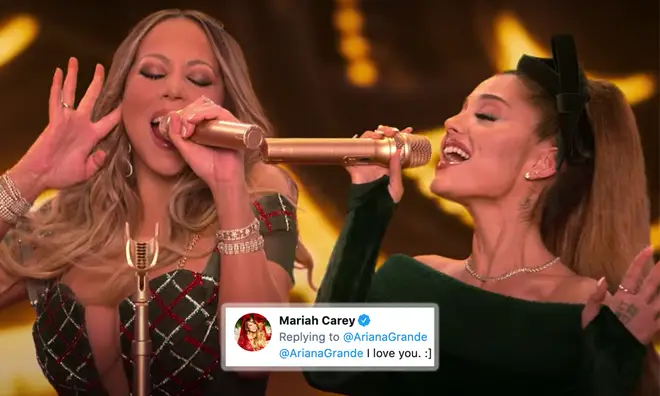 Ariana Grande has gone from Mariah Carey's biggest fan to her friend and musical collaborator as the divas drop 'Oh Santa' with Jennifer Hudson.
Ariana Grande has officially joined the ranks of superstar diva-dom, befriending her long time idol Mariah Carey as they drop 'Oh Santa' along with Jennifer Hudson and it's a seriously full circle moment for the 'Positions' singer.
Going from a major fan of the iconic 'Touch My Body' singer as a budding pop star, to being not only musical collaborators but close friends with the star, even Ariana still can't quite believe it herself.
Ariana Grande & Dalton Gomez's Cutest Moments In Pictures
So, let's take a look at the evolution of Ariana and Mariah's friendship, and have a sing along to their 2020 Christmas bop at the same time.
Shall we?
2020 'Oh Santa' Christmas collaboration
Mariah Carey - Oh Santa! (Official Music Video) ft. Ariana Grande, Jennifer Hudson
In the most 'no caption needed' moment ever, Ariana simply hopped on the 'how it started/how it's going' trend to illustrate just how surreal and emotional it was to be featuring in a song alongside Mariah.
In the video, if you haven't yet seen it, their infamous whistle note voices team up to create an actual ear explosion (in a good way) and we just want to show younger Ari because she wouldn't believe what she's seeing!
Hitting those whistle notes at the same time, they've petty much made every fans' dream come true, who have been gushing about the moment on Twitter.
One wrote: "mariah carey and ariana grande having a little mother-daughter moment ahhh."
Another said: "MARIAH AND ARIANA HITTING A WHISTLE NOTE TOGETHER IS THE VACCINE."
Where's the lie?
Mariah Carey let's Ariana Grande know the feelings are mutual

Mariah is letting everyone know the love and respect is absolutely mutual, telling Ari she 'loves her' and coming from one of the historically shadiest queens going (and we wouldn't have it any other way) this is serious achievement.
Mariah reposts Ariana's birthday message- 2019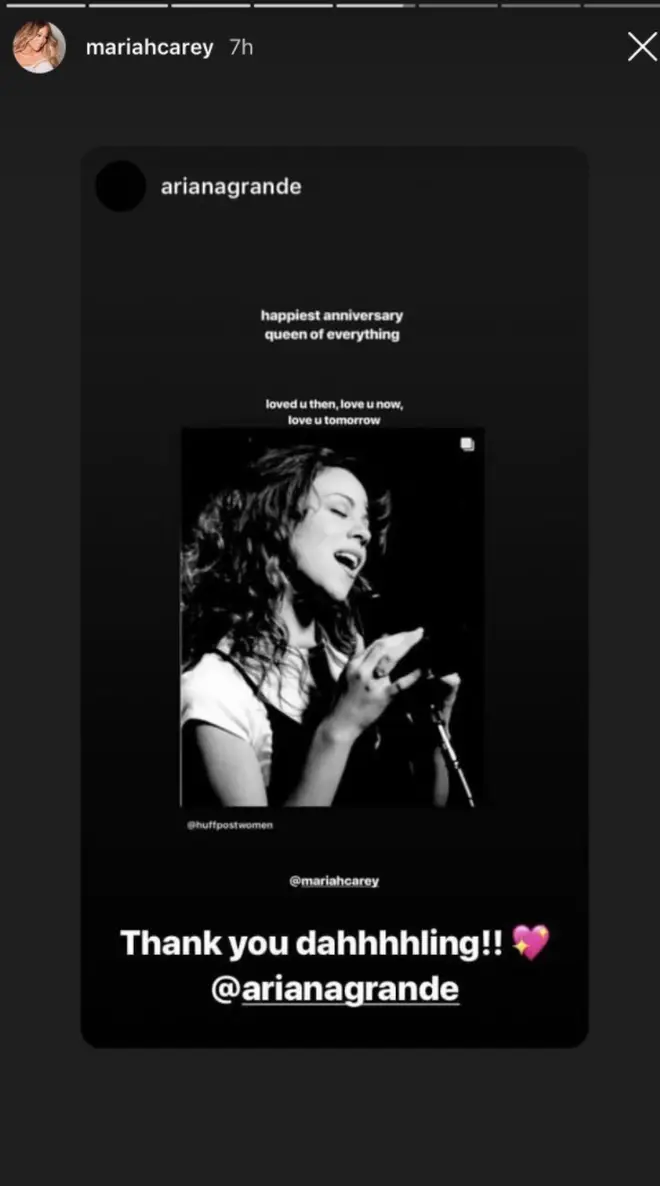 According to fans, 2019 was the first time Mariah publicly acknowledged Ariana re-posting her birthday tribute onto her Instagram, saying "Thank you dahhhling!"
Ariana wrote about the legend: "Happiest anniversary queen of everything."
"Loved u then, love you now, love you tomorrow."
Ari, you're in.
Ariana covers Mariah Carey's 'Emotions' complete with iconic whistle notes- 2012
Emotions - Ariana Grande (Mariah Carey cover)
In 2012, when Ariana was primarily known for her role os Cat Valentine on Nickelodeon's Victorious, she uploaded a cover of Mariah's track 'Emotions' to her YouTube channel.
Ariana wrote in the description: "This is an homage to my idol and inspiration Mariah Carey and dedicated to my fans!"
"I love you guys so much! Enjoy."
Hitting every single high note, because, duh, it's Ariana, fans (albeit fewer than her hundreds of millions she has today) left their praise and shock at just how incredible her vocals really are.
If only they could see how far she was about to come.
> Download Our App For All The Latest Ariana Grande News