Wireless Festival 2018: Mabel, Big Sean, Raye & More Took On Our Basketball Challenge
9 July 2018, 11:52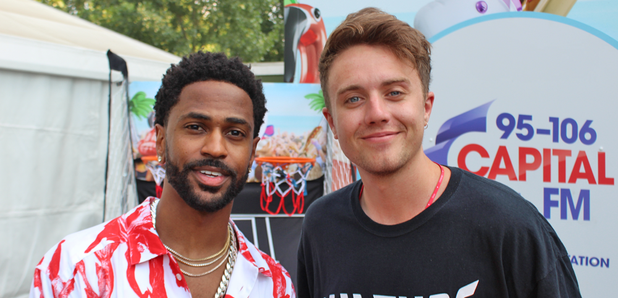 Could any of the Wireless Festival line up defeat Capital's Roman Kemp in a brutal game of basketball?
With the sun beaming down on Finsbury Park, Wireless Festival was a prett tasty temperature - so of course we decided to turn the heat up even more by setting up a scorching game of the hottest basketball you've ever seen!
It was our very own Roman Kemp against the world and there were some pretty strong contenders trying to take Kemp's crown - Big Sean, Raye and Mabel all stepped up to the plate, but could any of them bring victory home?
> Drake's Secret Headline Set At Wireless Festival Was Incredible
When Mabel entered the basketball arena, there was something that made it feel like this was a bit of a grudge match; that may have been the fact that England were playing Sweden later in the day and Mabel is half Swedish, but who knows!
Sadly for Mable, Roman swept to glory and then got into training for his next big match against the might of Big Sean.
The American rap star had a slight advantage, with his previous basketball experience, but Kemp was feeling like a boss and made sure this one went all the way down to the wire...
After stealing another victory from one of his esteemed opponents, Roman was then challenged by none other than 'Decline' star Raye. This was a real battle for the ages and even a bit of cheating from Kemp couldn't save him this time around.
When it comes to a basketball challenge, @romankemp will do anything to win... ANYTHING (sorry @raye) #WirelessFest pic.twitter.com/jiTOMkZKTH

— Capital (@CapitalOfficial) July 8, 2018
So Raye is the true basketball champion of Wiresless Festival 2018, but that didn't stop over-confident Kemp from raising the stakes when he took on his fellow presenter, Will Manning.
With Roman's rarest Supreme and Off-White gear on the line, he did everything he could to beat Will, so find out exactly how he got pn in the video below...
> Download Our Free App For All The Latest Music News!