From The Return Of Jack Sparrow To Guardians Of The Galaxy, These Movie Trailers MADE The Super Bowl
6 February 2017, 15:52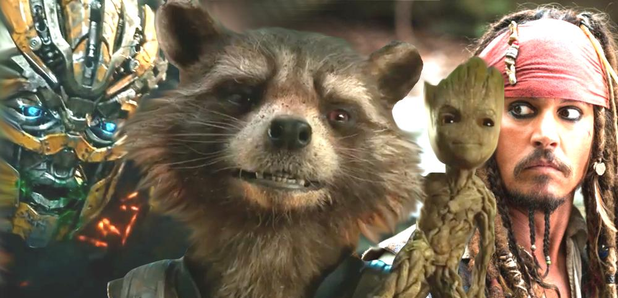 Aaaaaaaand there goes our plans for 2017.
When it comes to the Super Bowl, we know very little with what's going on - the rules all sound like they're from a foreign language, we notice there's some men running around and then Lady Gaga comes out and does an incredible set. Is - is that the Super Bowl?!
Luckily for us, there were movie trailers chucked in throughout it so we could sort of know what was going on. And these are - without a shadow of doubt - going to be some of the best parts of the year going.
Our favourite trailers include...
Transformers: The Last Knight
"There comes a moment in everyone's life when we are called upon to make a difference."

See the #Transformers extended Big Game spot now. pic.twitter.com/XJElTNPC0Z

— #TRANSFORMERS (@transformers) February 6, 2017
We're still trying to keep up with what was going on in this movie franchise. Why is Bumblebee attacking Optimus Prime? Did Shia LaBeouf turn into Mark Wahlberg? Why does Michael Bay use so many explosions?! We know the movie's probably going to be pretty meh, but we know we're gonna love every second.
Guardians of the Galaxy, Vol. 2
They're back. Watch the extended Big Game spot... obviously. #GotGVol2 pic.twitter.com/lmZJxjg0BR

— GuardiansOfTheGalaxy (@Guardians) February 5, 2017
Do we REALLY need to hype you up for this? If you've seen the first episode, you'll know that movie is going to be perfection. And even if all of the comedy, action and music doesn't float your boat... Baby Groot. You're welcome.
Pirates of the Caribbean: Dead Men Tell No Tales
See this extended look at #PiratesOfTheCaribbean: #DeadMenTellNoTales, in theaters May 26. pic.twitter.com/WUc8rpEra1

— Disney (@Disney) February 6, 2017
Sure, the last PotC film was questionable (to say the least), but the trailer for the fifth movie has got us more excited than we were when the first movie came out... Mainly because Orlando Bloom is coming back to the franchise. Let's just hope it doesn't involve any paddle-boarding with Katy Perry. That would be a whole different movie.
Logan
Grace. pic.twitter.com/99WvMFTiFT

— Logan (@WolverineMovie) February 6, 2017
No. We're - erm - not crying. Just because this is going to be the last movie where Hugh Jackman is going to play Wolverine. We've just got something in our eyes, okay?
Baywatch
Saving lives is the hard part. But looking this badass? That part is actually hard too. Watch the NEW Baywatch spot now! #BeBaywatch pic.twitter.com/fUWwrbPMfa

— Baywatch Movie (@baywatchmovie) February 6, 2017
This is probably been the one movie we've been banging on about since we heard it was being announced. Now we will watch this trailer (which includes Zac Efron in tight pants) for another 382,294. For research purposes. Obviously.
You May Also Like...