MTV VMAs 2014: The 7 Most Talked About Moments
25 August 2014, 14:36
Hit music hook-ups, new song debuts and an unforgettable awww moment from Beyonce.
Let's see exactly what's been dominating your newsfeed the morning after the VMA night before.
MTV VMA 2014 Winners List Results In Full: Beyonce And Miley Cyrus Win Awards
1. Let's kick things off with that adorable moment that Beyonce was joined by husband Jay-Z and daughter Blue Ivy live on stage.
Bey's little beauty was also all over those dances moves during her mama's performance.
(Image: GIFY)
In love with every moment of @Beyonce , JayZ and Blue Ivy #TheCarters #VMAs2014 #BeyonceonVMA #Yonce

— Alma Rivera (@Almaahhh) August 25, 2014
That was one of the greatest VMA moments ever!! And if Blue is not the cutest! Rock that natural hair Blue! Yes @beyonce ! #BeyMAs #VMAS2014

— Ashley Freeman (@LilAshleyNoelle) August 25, 2014
2. Miley Cyrus ended up in tears after winning the 'Video Of The Year' award with 'Wrecking Ball' AND her acceptance speech was #TotesEmosh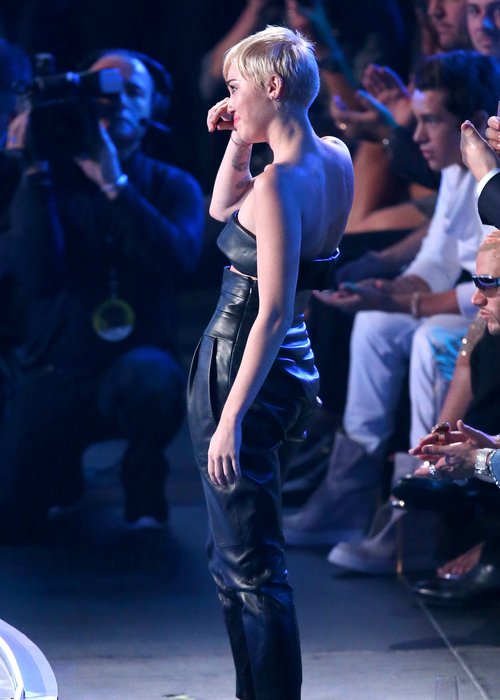 MILEY WON VIDEO F THE YEAR IM NOT OK IM@so PROUD MY PHONE HAS HAPPY TEARS I CANT TYPE @MileyCyrus !!!!!!!!!!!! #VMAs2014

— Matt Peterson (@heymattpeterson) August 25, 2014
Awe... What Miley Cyrus did was... BEAUTIFUL! #VMAs #VMAs2014

— Joey (@JoeyBGCBlogger) August 25, 2014
3. Girl power with a BANG BANG! Jessie J was joined by Ariana Grande and Nicki Minaj for a live performance of her latest track to kick off this year's show.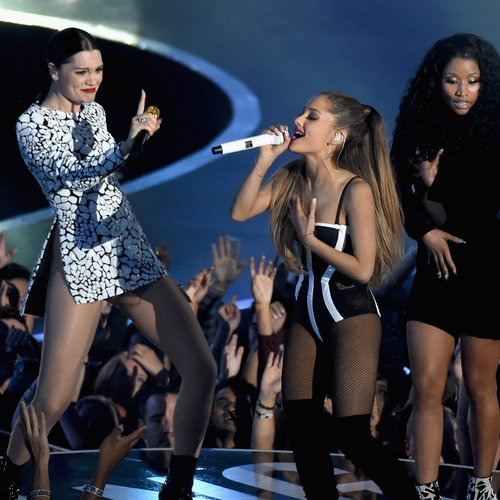 ARI + NICKI + JESSIE = BANG BANG one of the best openings ever #VMAs2014

— Jake (@JakeCalderone) August 25, 2014
Bang bang performance was my fav Jessie and Ariana's vocals with nicki's rapping is just perfection #VMAs2014

&mdash(@AwianaBaby) August 25, 2014
4. BRITs in America... Ed Sheeran and Sam Smith flying the flag for the UK during the world-famous event. Ed bagged himself the award for 'Best Male Video' with 'Sing', meanwhile Sam Smith delivered an INCREDIBLE performance of 'Stay With Me'.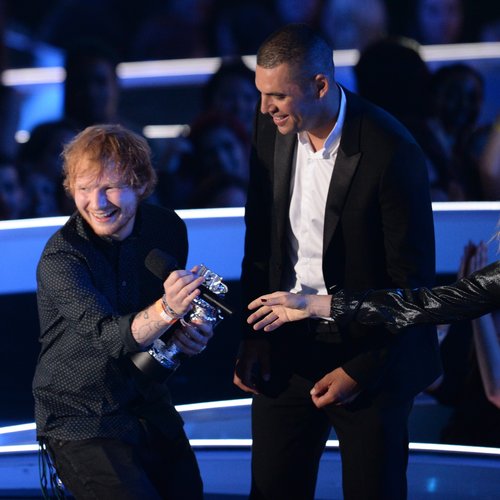 5. Taylor's back and what better place to debut her new song live for the first time than the VMAs. #Standard
And it wasn't just on stage that our pop princess was busting those moves...
6. 5 Seconds Of Summer make their MTV VMA debut with a SHOW-STOPPING live performance.

5SOS's performance was the best of the night. Guys were AMAZING. And LIVE. #VMAs2014

— Andrijana ☮ (@andri_ca) August 25, 2014
7. And finally... yep you guessed it! Nicki Minaj hits the headlines with more of those boot-shaking routines. #Anaconda
Nicki Minaj's ass deserves it's own damn award show #VMAs2014

— Jozalyn Gregor (@HeyyJozalyn) August 25, 2014
RITA ORA'S FACE DURING NICKI MINAJ'S #ANACONDA PERFORMANCE = FEAR + ADMIRATION = SENSORY OVERLOAD #vmas2014

— Nina Terrero (@Nina_Terrero) August 25, 2014
You may also like...