14 Struggles You'll Be Fully Aware Of If You've Ever Planned A Group Holiday To Ibiza
18 July 2017, 15:33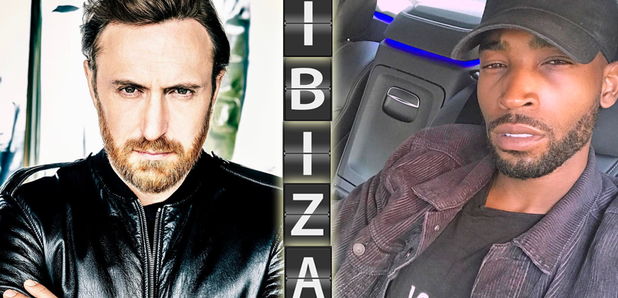 So you're going to Ibiza...
Group holidays are epic. Whether yours ends up like a scene from The Hangover or is a slightly more chilled affair, there's always a load of things you'll find difficult when getting your plans sorted.
So here's a rundown of the everyday struggles you'll inevitably go through when organising a trip to the White Isle...
1. Picking which mates to actually go with...
Big John is pretty fun on a night out, but you know you'll wanna chuck him in the sea after spending 7 whole days with him too!
GIF: GIPHY
2. Deciding which hotel to stay in...
You like the one right on the beach, but your mate wants to stay nearer to the clubs. In the end you stay in the cheapest one and are just happy that it's got a bed.
GIF: GIPHY
3. Picking which mate to share a room with...
You don't wanna be dealing with Sharon after she's had a few too many shots! She'll probably invite an entire group of people back to party in your room too!
GIF: GIPHY
4. How much spending money you'll need...
If one drink costs €12 and I plan on having 687426745 then how much will that be please madam?
GIF: GIPHY
5. Getting a response from the friend who never responds on Whatsapp...
Seriously though Smithy - what is that about? Why does it say 'Smithy is typing' but you never respond huh?!
GIF: GIPHY
6. Remembering to actually get your Euros...
Even after working out how much you'll need, you still haven't got any money and your flight's tomorrow!
GIF: GIPHY
7. Finding your passport...
Whilst you sensibly booked everything months ago, you somehow managed to misplace your passport. But when you're looking for it, you get the fear that it might not actually be in date or that you now look a lot different to the picture with your new hair! Panic central!!

GIF: GIPHY

8. Finding a hat that is THE ONE...
You and your squad need to look the business when you're out there, but how do you decide which one is the right one?
GIF: GIPHY
9. Fitting all your stuff in your suitcase...
Do you really need all those t shirts? Are you really gonna wear 24 bikinis? Nah, you're not...take it from us.
GIF: GIPHY
10. Working out if you can use your phone there...
You need to share pics of you and the squad looking absolute #IbizaGoals, we know...but just make sure it doesn't cost you an arm and a leg or you'll be left with a very bad holiday hangover!
GIF: GIPHY
11. Deciding who's gonna put the speakers in their hand luggage...
If there's one thing that is essential on a group holiday to Ibiza, it's the portable speakers so you can get the party started whilst you get yourself ready for the night ahead. Being the DJ in your hotel room means you can tell people you played a set in Ibiza you know!
GIF: GIPHY
12. Remembering that you really do need sun tan lotion...
We all remember the last group holiday when Tom fell asleep on the beach and and managed to turn into a lobster. Don't be Tom.
GIF: GIPHY
13. Picking which tunes go on your playlist...
Arguably one of the most difficult things when planning for your holiday. You wanna hear 'Despacito' on there but all your mates are going on about the new Tiesto remix. If they're your speakers though, you can play what you like, right?
14. Making sure everyone gets to the airport at the right time...
Pre drinks at the bar is the only way to get your Ibiza trip started off perfectly. Just make sure you all go to the airport in a mini bus otherwise someone is bound to be late (looking at you Lisa).
GIF: GIPHY
Download The Capital App Now Too Keep Up To Date With All The Incredible Live Sets From #CapitalInIbiza