11 Of The Most WTF Moments From Last Night's GRAMMYs
13 February 2017, 12:53 | Updated: 13 February 2017, 14:47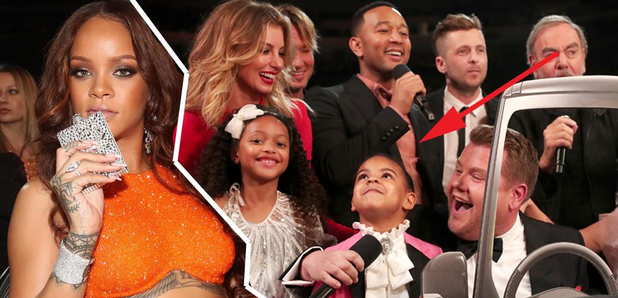 The 2017 GRAMMYs will go down as a truly iconic year.
Whether it's Adele breaking down, Rihanna swigging from her hip-flask or Blue Ivy's face when her mum won, it went DOWN last night!
1. Cee Lo Green almost instantly became a meme after choosing to wear a Ferrero Rocher.
why is cee lo green out there looking like a ferrero rocher?#GRAMMYs pic.twitter.com/ujcMxpOUzY

— anna (@nutellaANDpizza) February 13, 2017
2. Rihanna was caught losing her sh*z to a mate on FaceTime
BITCH RIH ON FACETIME pic.twitter.com/rVH98FHr0C

— - Titi. (@GxdCxmplex) February 13, 2017
3. And then drinking from a hip-flask that she sneaked in to the Staples Centre.
4. Blue Ivy crashed James Corden's Carpool Karaoke moment with JLo, Neil Diamond and a whole load'a other celebs.
5. And then she was the proudest lil' girl in the room when her mamma won.
6. Rihanna was spotted blowing a kiss over to Bey and we got a lotta time for it
IM HERE FOR RIHANNA AND BEYONCÉ BLOWING KISSES AT EACH OTHER #Grammys pic.twitter.com/5q1N0vsSat

— Beyoncé Reactions (@ReactionBeyonce) February 13, 2017
7. Blue Ivy side-eyed Nick Jonas and people memed the hell outa it.
"I'd prefer not to touch but if you could hurry back with that juice i ordered that would be great. Thanks, Nate!"

Blue Ivy pic.twitter.com/W7q318yZzV

— Danez Smith (@Danez_Smif) February 13, 2017
8. We can't stop watching Gaga's epic 'taking off her sunglasses action' in the slow-mo booth
Whoever made this deserves a VMA
pic.twitter.com/z15RxOcN70

— Gaga Mega Fan (@GagaMegaFan) February 13, 2017
9. And then of course she casually stage dived after her performance with Metallica.
YES, SHE DID THAT. Lady Gaga just crowdsurfed at the #GRAMMYs pic.twitter.com/46oYT64o7L

— Gaga Magazine (@GagaMagazineUK) February 13, 2017
10. And let us have a moment for Adele and Gaga partying backstage together
#Adele @Adele with Lady Gaga @ladygaga backstage in the dressing room! #Grammys pic.twitter.com/VEHyXL77iL

— Adelettes (@Adelettes) February 13, 2017
11. Finally, if you've not watched James Corden's entrance last night, it's absolutely HILARIOUS.
You May Also Like