"She's Hilarious!": The Best Celeb And Fan Reactions To Taylor Swift's 'Shake It Off'
19 August 2014, 12:04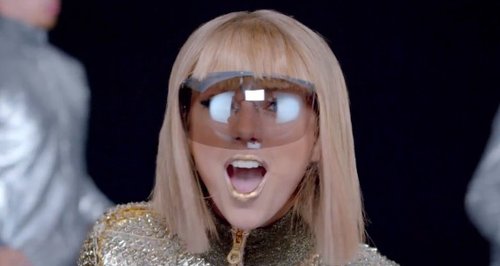 Taylor Swift has just dropped possibly the best video EVER – and those celeb types and fans alike have blown up Twitter!
If you haven't seen Taylor Swift's new video for 'Shake It Off', 1. Where have you been? 2. You're missing out 3. You need to watch it, like, NOW.
T-Swizzle's latest offering is possibly her best video yet – featuring everything from clumsy ballet to some SERIOUS booty twerking – and it's sent the entire internet into a frenzy.
We've picked out our favourite celebrity and fan Twitter reactions to the video:
Lena Dunham was loving it:
@taylorswift13 + @markromanek = dreams & fantasies #ShakeItOff

— Lena Dunham (@lenadunham) August 18, 2014
Perez Hilton is in awe of Swifty's loyalty to her fans:
Did I mention that the pizza party @TaylorSwift13 was throwing for her fans was in her apartment? Who else does that??? NO ONE! #ShakeItOff

— Perez Hilton (@PerezHilton) August 19, 2014
Kelly Clarkson is a BIG fan!
Okay Taylor Swift's new song/video "Shake it off" is pretty much my favorite thing right now! She's hilarious! Nicely done #thissickbeat :)

— Kelly Clarkson (@kelly_clarkson) August 19, 2014
Ellen DeGeneres knows…:
Don't mess with @TaylorSwift13, or she will write an incredibly catchy song about you. http://t.co/ryYA6Mp25I

— Ellen DeGeneres (@TheEllenShow) August 19, 2014
The fan GIFs have already started…:
I actually can't with the #ShakeItOff music video http://t.co/6oiyNeUyVv

— Taylor Swift Quotes (@QuoteTaySwift) August 18, 2014
Someone needs to set up a #ShakeItOff helpline:
Guys I've been repeating Shake It Off for an HOUR.... send help... #taylorswift

— Catrific (@catrific) August 18, 2014
No, really, the fan GIFs are out in force:
Taylor describing how I feel right now #ShakeItOff http://t.co/gPtpI3GYLh

— Taylor Swift NZ (@TSwiftNZ) August 18, 2014
This lady is a self-confessed #Swifty:
words cannot even begin to explain my (slightly) weird and undying obsession with @taylorswift13 #shakeitoff

— Lizzie Webster (@lizziewebster1) August 19, 2014
This fan is word-perfect:
YOU CANNOT DENY IT SHAKE IT OFF IS SO CATCHY AND TELL ME IF YOU HAVENT MEMORIZED IT YET BC THATS UNBELIEVABLE

— 1989 (@staykesarehigh) August 19, 2014
This fan is not getting any work done today:
been listening to shake it off for 5 hours straight . obsessed

— Phoebe Libbish (@phoebelibbishxx) August 19, 2014