Taylor Swift Reveals Her NEW Song 'Shake It Off'… And Her New Album '1989'
18 August 2014, 22:14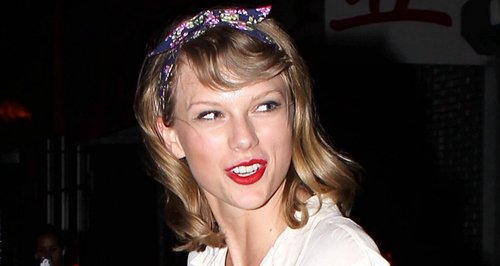 Taylor Swift's back… and she's JUST revealed her brand new song 'Shake It Off'.
Taylor Swift's BACK and she's just revealed her brand new song 'Shake It Off'... AND announced the first details about her new album.
The US star's fans, affectionately called Swifties, had been waiting with SO much excitement about T.Swift's big announcement tonight (18th August), and now EVERYONE knows that the '22' star is back in a big way.
Taylor used her big moment to announce a new single called 'Shake It Off', which she also revealed in full while dancing along with her fans in attendance at her live stream event.
"This is a song that i did with Max Martin and Shellback," Taylor explained in her live stream to announce the track. "We decided to get back together and we went in the studio and deduced it was our number one priority to do something that sounded like nothing I had done.
"The idea that, I've had to learn a pretty tough lesson in the past couple of years, that people can say whatever they want about us. False rumours!" Taylor teased. "And we cannot control that. The only thing we can control is our reaction to that. Option two is you just shake it off!"
The US superstar ALSO announced she's got a new album coming that she's been working on for the past two years.
"I feel like two years gives you enough time to grow and change your priorities," she explained. "What's influencing you, what's inspiring you, [and] in the process of this, my music has changed.
"I woke up everyday I was making this record, not wanting, but needed to make a new style of music. We make my favourite album we've ever made," Taylor explained, before announcing the album's title as '1989', after the musical influences of the record AND Taylor's year of birth.
If that wasn't enough... the album is available to pre-order very soon AND... it's due out on 27th October!
PLUS... don't forget Ms. Swift is ALSO set to perform live at the MTV Video Music Awards in August (24th), maybe she'll be back playing the new song for all of her fans?
What do you think of Taylor Swift's NEW single 'Shake If Off'? Listen to the song above and let us know in your comments below…
You may also like:
> Taylor Swift's 'Red' World Tour: Capital's FAVOURITE Moments.