GRAMMY Winner, Taylor Swift's Reactions Are PRICELESS... And Here's Our Fave GIFs To Prove It!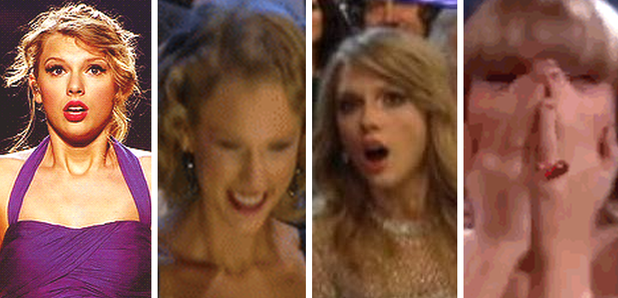 It's ALL we can talk about - Taylor's reaction to Ed Sheeran's GRAMMY win for Best Pop Solo Performance. There was just so much fangirling... And it didn't just start this year!
The Internet went into a mad frenzy when Ed Sheeran walked away with the GRAMMY Award for Best Pop Solo Performance. Not because they were pleased for the 'Thinking Out Loud' vocalist, but because of this...
Yes. That is Taylor Swift, one of the losers of the category, squealing with joy and rushing to give the British singer a big hug. A lot of people are calling her a fake after this outburst, but seriously people - you reckon this is fake?!
She's been doing these sorts of reactions for YEARS at the GRAMMYS, and we've got all of the evidence to prove it.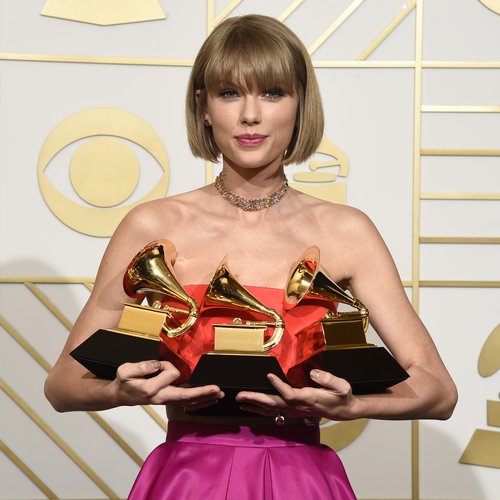 Firstly, what sort of run-down of Taylor's moments would this be if we didn't mention her dance moves? Like, this - what seems to be Ms Swift at a techno-rave, when in reality she's jammin' to the 2013 Bob Marley tribute.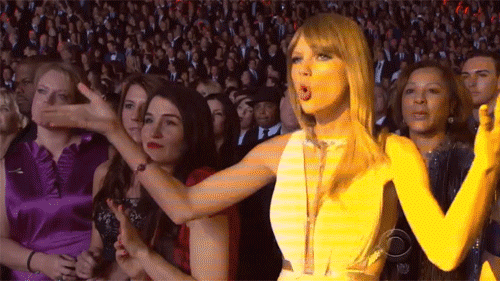 We cannot stop watching the GIF of Taylor, and pretty much everyone sat in the Staples Center as Daft Punk were announced as the winner's of the GRAMMY for Best Album. That or someone kitted the entire venues chairs to deliver an electrical charge every time someone won a gong.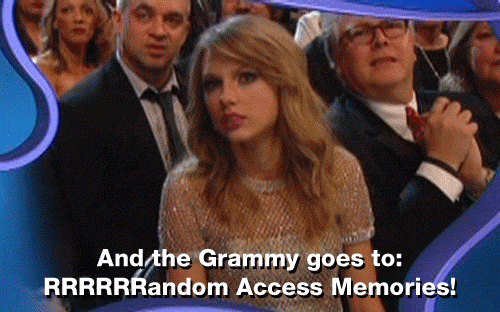 She doesn't just lose her shiz when she's watching other people on stage. Apparently she does it for herself too! You'd be excused for thinking she was playing heavy metal here - turns out TayTay's banging her head to her rendition of 'All Too Well' during the 2014 GRAMMYs. What other song would you head bang to?! During that year's awards ceremonies, the '1989' singer walked away empty handed (and with a bit of a headache, probably). But she expected it, when she flicked back to her pal, Ed Sheeran, to tell him that she knew she was going to lose the award for Best Country Album to Kacey Musgraves. We're just annoyed she played it so cool.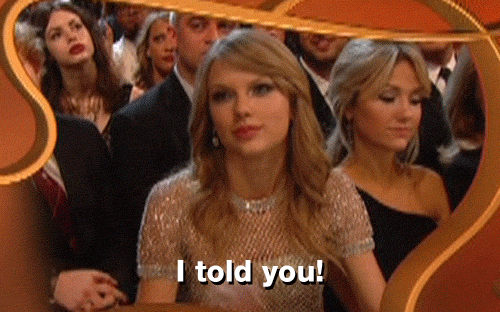 Fear not, though - we're back to her wild, flamboyant moves. Insert all of the cheering here. During last year's GRAMMY ceremony, Taylor was busting some serious moves... We think. And another reaction that makes our lives - Pharrell gives her all of the side-eye. Someone's jealous he can't move like that.
And of course - this happened. During this year's GRAMMY Awards, Taylor reached out for her BFF and 'Bad Blood' co-star, Selena Gomez, for a photo... But then it, erm, sort of didn't happen. Way to style it out, Tay.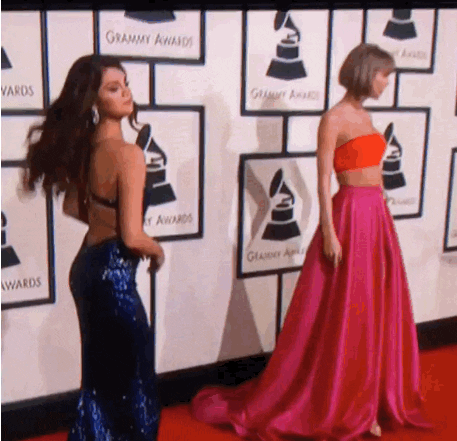 You May Also Like...