This Fan Theory That Taylor Swift's New Album Tracklist Hint's She's Engaged Has Caught Us By Surprise
9 November 2017, 12:16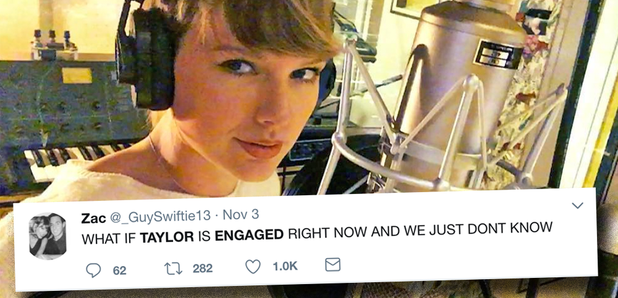 We're not saying it's not right though!
When it comes to fan theories, we thought we'd seen it all. However, with Taylor Swift's brand new album 'Reputation' building excitement amongst fans right now, a brand new one has sprung up and blown our minds.
Track 15 on 'Reputation' is Taylor Swift revealing she's engaged to boyfriend Joe Alwyn. Apparently.
> #CapitalJBB 2017 - Ed Sheeran, Taylor Swift, Sam Smith, The Chainsmokers & More Confirmed For The Jingle Bell Ball Line Up!
According to many fans, the final track on Taylor's album entitled 'New Year's Day' could be the moment that we find out she's actually preparing to tie the knot.
There's no evidence that that could be the case and this is all based of fan speculation, but the theory is building some serious steam on Twitter.
According to some fans there were tears shed when listening to the song during Taylor's secret listening parties earlier in the year, so could there big some big news contained within the song's lyrics?
Either way, some fans are all over the idea...
if Taylor is engaged and that's what New Year's Day is about I s2g I will be a mess

— erin (@onmywaist_line) November 8, 2017
imagine if taylor is engaged and she reveals it in her album

— jack (@taysIorde) November 3, 2017
i don't know why i think track 15 is about taylor getting engaged or something

— cameron (@stateotaylor) November 7, 2017
If track 15 is where Taylor sings about getting engaged, I will freaking cry puddles of happy tears!!!! @taylorswift13 #REPUTATION

— Ely Belly (@swiftie_1990) November 7, 2017
i like to believe the theory that says track 15 is about taylor being engaged and that the secret message will be "i am engaged" or somethng

— (@emmmyzing) November 6, 2017
so track 15 is suited for a 'wedding'? and it'd make us all emotional? are taylor and joe engaged? WHY AM I ATTACKING MY OWN SELF BSLADBDK

— kheen (@swiftsmodels) November 3, 2017
IF TAYLOR IS ENGAGED WATCH ME SOB WITH HAPPINESS

— bb (@canaryswift) November 9, 2017
'Reputation' is released on Friday 10th November and fans are on the edge of their seats waiting to take it in for the first time.
We're gonna hold off celebrating Tay Tay's 'engagement' news for now though.
> Download Our Fancy New App For Loads More Taylor News!
Whilst you're here, check out what Ed's got planned for Taylor Swift during his #CapitalJBB performance...