Taylor Swift Denies Ed Sheeran Romance Rumours: "We Mostly Just Text About Music"
8 March 2013, 09:19
He '22' singer jokes that her friendship with the British star is code for "secretly loving gingers".
Taylor Swift has denied recent reports that she and Ed Sheeran are dating.
The couple were linked since last month's BRIT Awards following the country singer's public split from Harry Styles.
Speaking to We Love Pop magazine, the 'We Are Never Ever Getting Back Together' star admitted she and the 'Lego House' man mainly simply text each other and enjoy conversations on music.
"We mostly just text: 'Hey pal! Miss you dude!' And it somehow ends up turning into a conversation about the meaning of life and music," she revealed.
The 'Begin Again' singer joked how perhaps it was perhaps a secret code of her affections for the star.
"Perhaps that's code for: 'I secretly love gingers, especially any called Ed'," she said.
The star's love life has been a constant source of speculation in recent months after breaking up with her One Direction boyfriend at the start of the year.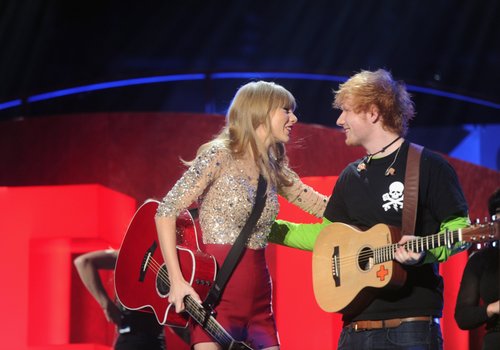 Speaking about her private life in the new edition of Vanity Fair, she revealed how she's only had two relationships since 2010 and hit out at media sources for linking her with "dozens" of men – just because she records a song hangs out with them.
Meanwhile, the two are set to head out on the road together this month for Taylor's 'Red' world tour, which kicks off in Omaha on 13th March.