The Actual Message Behind Taylor's 'Delicate' Video Means So Much More Than The Easter Eggs
12 March 2018, 12:17 | Updated: 15 March 2018, 10:18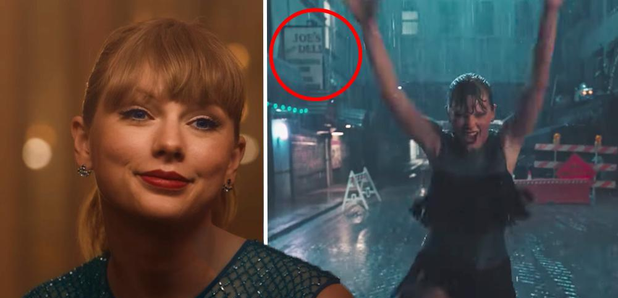 Yep, we all saw 'Joe's Cafe' in the background... but surely you got the message of entire video too right?
Taylor Swift is the QUEEN at sliding in secret Easter Eggs in her music videos (we're still finding new ones in 'Look What You Made Me Do) however it was the overriding message behind her latest video 'Delicate' that's got fans gushing over the 'Reputation' star once again.
> You Know We Have A LOT Of Taylor News On Our App Right? Download It Now!
If you're as eagle-eyed as the Swifties you'd have spotted a couple of easter eggs upon first viewing, most notably the sign for 'Joe's Deli' - a sweet little nod to Taylor's boyfriend Joe Alwyn:
I love the new music video I also love the "JOE'S DELI" sign in the background. #DelicateMusicVideo #Delicate @taylornation13 pic.twitter.com/FT3cMyNyjL

— Verena (@Verena_M13) March 12, 2018
And of course those fans who have had 'Reputation' on since it was released, there was even an easter egg for the album's track listing:
#EasterEgg in @taylorswift13 Delicate music video. On the post at the subway station it says Track 5 which is Delicate on the album. #Reputation pic.twitter.com/JT8E6cC7cB

— a real leighadie (@leighslovexo) March 12, 2018
However, whilst it's good fun finding these hidden messages in a mult-million-dollar production, most fans were more won over by the music video as a whole.
> Here's How Taylor Swift Has Been Travelling To See Joe Alwyn Totally Under The Radar
I have to say that when I've watched it this morning at 5:30, I wondered why doing a video like this for an amazing song like "Delicate" but after I've rewatched it 3 times, I have to say I am addicted and the meaning of the video makes me wanna cry. #DelicateMusicVideo pic.twitter.com/9Mfmn5htGG

— francesca (@bbacktodecember) March 12, 2018
Other people should not prevent you from being who you are. Delicate MV has a really touching message. In terms of song and MV, End Game is my fave, and in terms of message, Delicate MV is the best
And i don't want Taylor being labeled incorrectly #DelicateMusicVideo

— Jewel Marcelo (@jwlspearsswift) March 12, 2018
the message of the delicate mv is so beautiful like when she's not in the spotlight that's the only time where she can be happy and really be herself and and now im crying

— kc (@wifiswift) March 12, 2018
As always, Taylor's fans are feeling the 'Delicate' music video in a BIG way and we 100% see why.
Let's never forget how sweet it was when Joe filmed Taylor at the #CapitalJBB last year...