"I'm Stagnant" - Selena Posts A Revealing Message About The Need To Rethink Her Life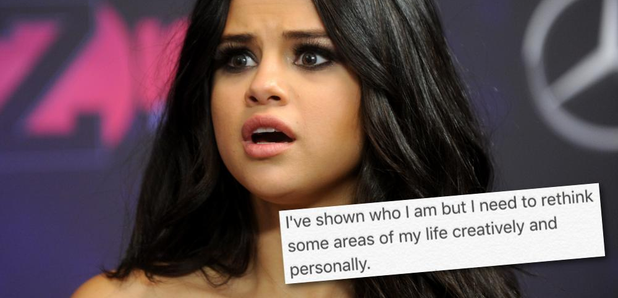 Following her performance in Indonesia, the 'Hands To Myself' singer took to Instagram to share a deeply raw message with her fans.
We've only JUST finished celebrating Selena Gomez's 24th birthday - she should be on cloud nine. But by the looks of the notes on her phone, she isn't.
Having performed in Jakarta during her 'Revival' tour - a day after her birthday - Selena posted a shot on Instagram, detailing her need to "rethink some areas of my life creatively and personally" which has left her 91.4 million followers in shock.
The note reads "Tonight I felt extremely unauthentic, unconnected to both my myself and my music. I've never really felt like my materials, wardrobe or a video could define me. I act on a moment and fear something that hasn't happened.
"I'm stagnant, I stay still and don't just sit with myself first and ask, 'Is this where I am, wholeheartedly?' I've always told the truth. I'm always true to my word, I've shown who I am but I need to rethink some areas of my life creatively and personally. Had to get that out."
The post, which was captioned as "Not being negative about anything I've done. I'm grateful for every single moment I get here.", follows her performance in Indonesia whereby she gave a very moving introduction to her final song, 'Kill Em With Kindness'.
Selena talking to the crowd in Jakarta. pic.twitter.com/2mMqbpv1Gp

— :) (@gomezmalikteam) July 23, 2016
You May Also Like...