DNCE Have Just Surprised EVERYONE And Announced That They're Gonna Tour With Selena!
Joe Jonas' band shocked every single music lover when they took to Snapchat to share the news that DNCE will be joining Selena Gomez during her 'Revival' tour. We. Cannot. Wait!
You're Selena Gomez. You're still buzzing because 'Bad Blood', a video you starred in, has just walked away with a GRAMMY. Nothing could possibly top this... Or could it?
The 'Hands To Myself' singer was walking back to her room, when she was jumped on by a group of four people. Don't worry - this is a lot lighter than we're making it sound!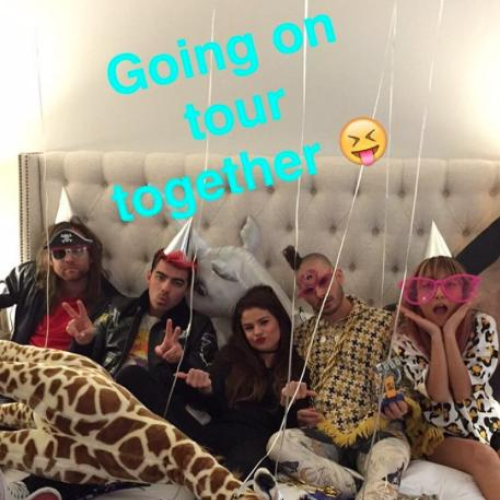 This four-piece was in fact DNCE - the 'Cake By The Ocean' singers! The foursome surprised her in her room, screaming and shouting and somehow managing to actually make those shiny party hats look cool. How do they do that?!
They sent this Snapchat video to tell us all that they're going to open for Selena during her 'Revival' tour.
LETS GO ON TOUR @selenagomez watch the whole snap story at my snap chat JOSEADAM pic.twitter.com/YG2mldAE2c

— J O E J O N A S (@joejonas) February 24, 2016
Just imagine how much cake they're gonna eat!
You May Also Like...