Poor Sam Smith! The 'Like I Can' Singer Splits From His Boyfriend Jonathan Zeizel
23 January 2015, 08:34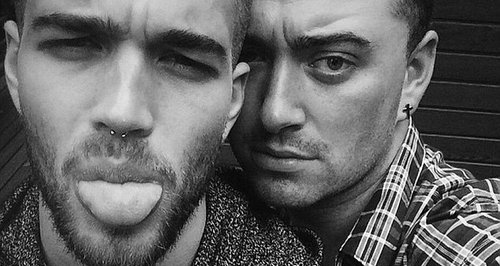 Sam's been feeling blue as he's reportedly broken up with his new man.
Poor old Sam Smith! The 'Like I Do' singer has apparently split from his new man, dancer and model Jonathan Zeizel, and it looks like he's feeling pretty blue.
The Sun reports that on Tuesday night at his show in Toronto, Sam told the crowd as he went to sing his break up track 'Good Thing', "This song is very special for me today, as I've actually had to do a very similar thing with someone I've been seeing."
Speaking after the show, Sam also confirmed he was looking for love again, "Hopefully I will find someone soon and when I do I think it will be a bit more difficult to sing songs because I will want to sing happy songs. Right now when I'm on stage I feel like it is good for me, it is like therapy every night. The music comforts me."
Sam also dropped some emotional tweets on the night:
Had a really sad day today, so thank you Toronto for making me feel so much better x

— SAM SMITH (@samsmithworld) January 21, 2015
You live and you learn. Wise words from @JessieWare tonight x

— SAM SMITH (@samsmithworld) January 21, 2015
Sam and Jonathan met on the set of the video for 'Like I Can', where Jonathan was an extra. Sam told The Sun at the time, "It's very early days. I'm talking very, very, very early days. But he's really sweet. I met him on the video for 'Like I Can', he was one of 20 extras."
"It's a surreal thing to be talking about because I haven't even confirmed with him that we're officially seeing each other. He'll probably hear about this now."
However, his relationship was never going to get in the way of Sam's emotional songs as he explained, "People need to realise I'm never going to be happy. The reason I do what I do is because I'm an artist who is always going to be blue about something. It's just the way I am — I'm an emotional person. I'm going to go fall in love with as many people as I can and get my heart broken."
"Every week this job gets crazier but I'm managing to get happier, which is odd. I'm taking time for a personal life. I'm not over-thinking stuff. I'm more aware now of who I am as a person. I feel very comfortable in myself, more than ever."
And some of this happiness comes from the fact Sam is no longer hung up on the guy who was the subject of his debut album, 'In the Lonely Hour'.
He explained, "I'm completely over the guy who the record's about so that really helps. We're still in touch and friends. But I was the only one in the relationship. We never even kissed, nothing ever happened.
"He highlighted something about myself — that I was really lonely. I'd never been in a relationship before and that was starting to affect me."
We hope you feel better soon, Sam!
You May Also Like…