Sam Smith Leaves The Jingle Bell Ball 2014 Crowd In AWE With A Pitch-Perfect Set
8 December 2014, 14:40
From 'Stay With Me' to 'Money On My Mind' - watch Sam's first JBB set as a solo artist.
Sam Smith brought superhuman vocals and a cheeky charm to his set for the Capital Jingle Bell Ball 2014 with Morrisons.
Before he took to the stage, Capital's Roman Kemp managed to nab five minutes with him backstage to go through some, erm, interesting vocal warm ups…
From the minute the 'Stay With Me' star arrived he looked right at home on that stage, smiling away at the Jingle Bell Ball crowd and loving EVERY minute!
After beginning his set with debut single 'Money On My Mind', Sam thanked the audience for having him and waxed nostalgic about being at the Jingle Bell Ball LAST year with Disclosure, saying just how important it felt for him to be here as a solo star this year!
Next up was Sam's recent chart smash 'I'm Not The Only One', a hauntingly perfect rendition of the track that saw Sam knocking every note out of that O2 Arena.
The next song on Sam's ABSOLUTELY stellar setlist was his newest release… 'Like I Can', from his album 'In The Lonely Hour'.
He picked up the pace with this number, and kept that cheeky smile on his face while catching all the JBB crowd dancing along with him! YOU WERE LOVING IT SAM!
"Two days ago I was in LA and I found out I was nominated for six Grammys, which is amazing!" Sam told the crowd, after hearing the news this weekend, before introducing his next song… his Naughty Boy team-up 'La La La'!
Sam kicked off the track by getting all the fans out there to sing the song's catchy refrain, before heading into the main track itself.
Next up Sam opted to slow things down with a stripped back performance of his Disclosure collaboration 'Latch'. And it was BREATH-TAKING!
"I wrote this song about two years ago, and it's pretty much changed my life," he revealed.
Obviously the camera-phones soon came out all over the arena, and Sam performed right up at the front of the stage to take in ALL that atmosphere.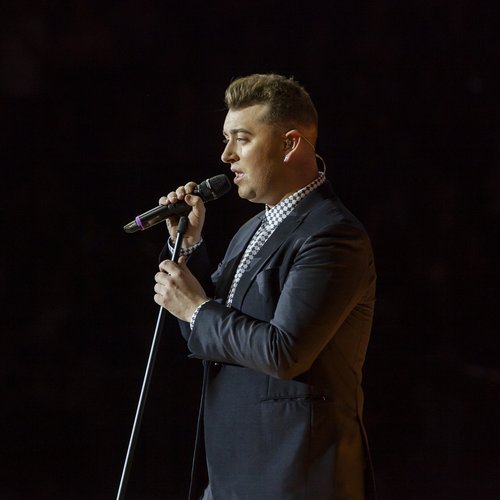 "This is my last song. Sing this as loud as you can guys!" Sam said, to announce his FINAL song of the night, the phenomenally successful 'Stay With Me'.
Sam closed out his set the ONLY way he should - by performing his Vodafone Big Top 40 number one and getting us to sing with him ALTOGETHER!
Sam... you SMASHED it!
Check out Sam Smith's FULL setlist from the Capital Jingle Bell Ball 2014 with Morrisons below:
'Money On My Mind'
'I'm Not The Only One'
'Like I Can'
'La La La'
'Latch'
'Stay With Me'