WATCH: The FIRST Teaser For Sam Smith's Music Video To Bond Theme 'Writing's On The Wall'
30 September 2015, 12:32
After the unveiling last week - see what you think of this tease for the video to the Spectre theme song.
Sam Smith's new James Bond theme song has FINALLY arrived... and it's gone down a treat with fans of both the star AND the 007 movies after our first play. Plus... the UK star has unveiled a short teaser for the track's music video, which you can view above.
We had our first spin of 'Writing's On The Wall' last week (25th September) which was introduced by Sam himself, and we pretty much got ACTUAL chills hearing the UK star's incredible vocals over the top of classic Bond style strings.
Check out some of our FAVE listener reaction tweets to Sam Smith's 'Writing's On The Wall' below:
I'm feeling @samsmithworld bond song.

— L. Cope Plastering (@lougooner20) September 25, 2015
Oh Lordy lord @samsmithworld new Bond song is amazing #SPECTRE #writingsonthewall #speechless

— Beki Turner (@BekiClaire) September 25, 2015
@samsmithworld WRITINGS ON THE WALL IS AMAZING OMG

— ☮ Wwe ☮ (@Booyakahreigns) September 25, 2015
Sam smith has absolute smashed the new bond song!

— Will (@Will_Benson10) September 25, 2015
GOOSEBUMPS ALL OVER. OMG @samsmithworld YOU CAN DO NO WRONG. ITS BEAUTIFUL!

— Jackie Daly (@littlesailor_ss) September 25, 2015
100% Bond, with extra Bond plus a side order of Bond #WritingsOnTheWall @samsmithworld

— Amelia Butterly (@ameliabutterly) September 25, 2015
@samsmithworld Totally in love with Writing's On The Wall, fantastic song

— Kayleigh Natasha (@1DFan88) September 25, 2015
Earlier this week Sam gave us a sneaky first listen when he posted up a short teaser clip online showcasing some of those trademark horns that form part of his 007 soundtrack anthem.
4 days!! http://t.co/LYGQePI8Cm Thanks to everyone pre-ordering, can't wait for you to hear 'Writing's On The Wall' https://t.co/nEYRMK8qif

— SAM SMITH (@samsmithworld) September 21, 2015
Sam was confirmed as the singer of the new James Bond theme earlier this summer after speculation reached fever pitch, making it the first to be recorded by a British male solo artist since 1965 - pretty impressive, Mr Smith!
Sam said, "This is one of the highlights of my career. I am honoured to finally announce that I will be singing the next Bond theme song. I am so excited to be a part of this iconic British legacy and join an incredible line up of some of my biggest musical inspirations. I hope you all enjoy the song as much as I enjoyed making it."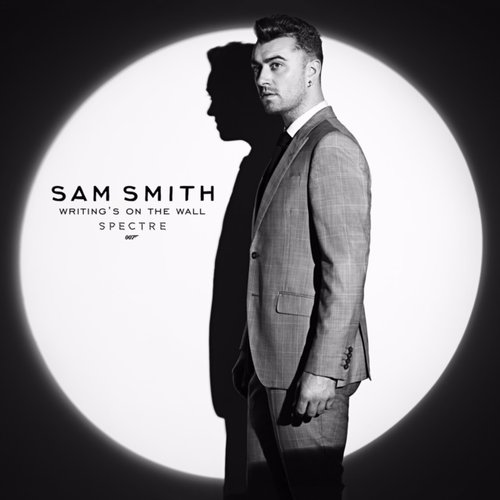 The producers of Spectre also added, "Sam and Jimmy [Napes] have written the most inspirational song for Spectre and with Sam's extraordinary vocal performance, 'Writing's On The Wall' will surely be considered one of the greatest Bond songs of all time."
The 'Stay With Me' star tweeted a photo of his hand with a silver ring with a design that looked SUSPICIOUSLY like the logo for 'Spectre' on it last night before the news was confirmed.
The photo was posted without any caption - which also lead fans to think that the star may be engaged - but it was all a little too coincidental with that logo, dontcha think?
Sam denied the rumours when he paid a recent visit to Capital with Disclosure - turns out our boy was telling some serious porkies… but we had our suspicions all along!
One lady who'll be pleased about the news is Ella Eyre who previously told Capital, "Adele smashed it last [time], Sam probably is the most obvious answer! He's got a gorgeous voice, and why not?!"
Back in August 2014, rumours surfaced that Sam was producers MGM's top choice to sing the new 007 theme. "Sam is our top choice," a source close to producers MGM revealed to The Sun at the time. "He has the profile, cool image and astonishing voice to record a Bond theme."
However, Sam quickly went on record to say he knew nothing about the rumours, bit did admit singing a Bond theme would be every singer's dream.
"No, I have no idea what that was about and I know as much as you do!" Sam told NME, when questioned about the rumours. "You probably know more than me
"I think it's something everyone would love to do, but yeah, it was all news to me," the UK star clarified. "I won't say any more n it."
The next Bond theme, which will be Daniel Craig's fourth outing as super-spy 007, is set to launch in cinemas on 26th October 2015 and 'Writing's On The Wall' will be released on 25th September.
Adele released the last Bond theme for 'Skyfall' back in 2012, which led her on to win an Oscar, BAFTA and Golden Globe Award for her efforts - no pressure, Sam!
What do you think of Sam Smith singing the new James Bond theme? Let us know in the poll below:
You may also like...