Sam Smith At The iTunes Festival 2014: The Best Moments
10 September 2014, 16:47 | Updated: 11 September 2014, 09:16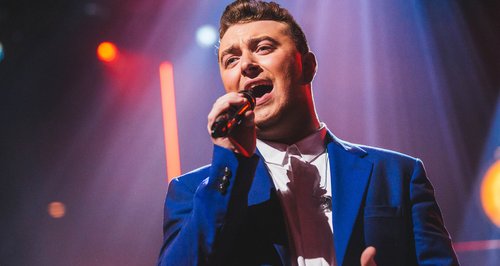 Sam Smith graced the London Roundhouse stage last night (9th September) at this year's iTunes festival and did not disappoint. The 'Money On My Mind' singer serenaded his way through tracks from 'In The Lonely Hour' as well as a few other surprises! You missed it?! Well don't worry, Capital were there to make sure you wouldn't miss out on the BEST moments of the night!
ITUNES FESTIVAL - LETS GO

— SAM SMITH (@samsmithworld) September 9, 2014
When the crowd fell silent…
Sam stopped the entire crowd in their tracks when he effortlessly belted out a live rendition of 'Lay Me Down' from his debut album. We are pretty sure there wasn't a couple in the audience who weren't styling out a 'sway-hug' combo.
When he covered the Arctic Monkeys' 'Do I Wanna Know?
Not content with being an incredible soul singer, Sam figured he may as well cover Arctic Monkeys' rock anthem 'Do I Wanna Know?'. Arctic Monkeys' frontman Alex Turner may want to keep his eye on the 22 year old incase the band decide they need a new singer!
The crowd became his own personal choir!
Nothing must beat the feeling of hearing 1,700 people singing your own songs back to you. That is exactly what happened when Sam got around to singing crowd favourite 'Stay With Me'.
Those falsetto notes though…
It is safe to say that Sam's vocal range is one of the best in the business. He performed the title track from his Nirvana E.P and it was breathtaking. Mariah Carey eat your heart out.
Throw in a world famous rapper for good measure!
Sam may feature on tracks for Disclosure and Naughty Boy but it was his turn to invite someone to feature on one of his songs and he chose wisely. A$AP Rocky made a surprise cameo during 'I'm Not The Only One'.
Sam Smith iTunes Festival 2014 Setlist
1. Intro
2. Nirvana
3. Together
4. Leave Your Lover
5. I'm Not The Only One
6. I've Told You Now
7. Like I Can
8. Restart
9. Do I Wann Know? (Arctic Monkeys Cover)
10. La La La
11. Lay Me Down
12. Money On My Mind
13. Latch
14. Make It To Me
15. Stay With Me
And the result? A pitch perfect concert leaving every audience member smiling from ear to ear.
Whether it was slow dancing with a loved one, watching with your mouth ajar in awe or singing along with a 'Money On My Mind/Finally' mashup, it's pretty clear the Roundhouse was left wanting more! Luckily Sam will be touring the UK early next year so you will all get a chance to catch him live!
Keep It Capital for the latest from the iTunes Festival!
All the hottest Capital artists performing at the iTunes Festival will be chatting to Max backstage. Catch her Monday-Thursday from 10pm and Sundays from 7pm.
Showing @samsmithworld how you sit down properly! #itunes he is ready to rock tonight! Will be on #Capital 10pm x pic.twitter.com/8Tet0TI81G

— MAX (@ThisIsMax) September 9, 2014
More From The iTunes Festival 2014