Six Incredible Sam Smith Duet Team-Ups
19 November 2014, 11:17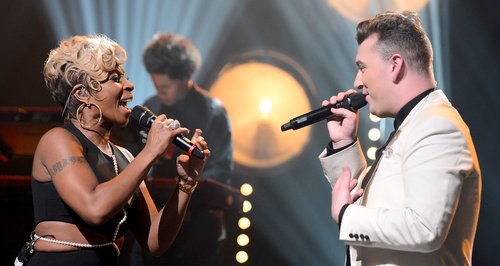 He may only be a year or so into his career, but Sam's already racked up some impressive superstar duets so far. Relive his six best team-ups so far...
Sam Smith has had quite an incredible year. From arriving with his first album 'In The Lonely Hour' to winning the BRITs 2014 Critics' Choice Award and scoring a string of hit singles, it's been ALL about this chap for the past twelve months.
With just weeks to go before Sam hits the stage for the Capital Jingle Bell Ball 2014 with Morrisons, we're celebrating the best of Mr. Smith with some of his greatest duets to date.
And just think... what other superstar team-ups could Sam add to this list in 2015?
'Stay With Me' with Mary J. Blige
Earlier this year Sam got to fulfil an incredible dream by teaming up with US R&B superstar Mary J Blige on a new studio version of his Vodafone Big Top 40 number one hit 'Stay With Me'. As if that song couldn't get any better, just hit play on the video below, sit back and be amazed...
'Stay With Me' with Ed Sheeran
In October 2014 Sam Smith surprised EVERYONE during his Royal Albert Hall concert when none other than Ed Sheeran popped up during 'Stay With Me' for an impromptu duet. And, naturally, the crowd went wild!
'Money On My Mind' with Taylor Swift
During the 'Red' tour in 2013 audiences got used to Taylor bringing out a special guest or two for a surprise duet, but her team-up with Sam Smith always springs to mind for their great chemistry, natural stage presence together... and for the fact that he was JUST about to become one of the biggest artists on the planet.
'I'm Not The Only One' with A$AP Rocky
This single from Sam's debut album 'In The Lonely Hour' was already pretty damned perfect, but when Sam surprised us by releasing a studio version featuring US rap star A$AP Rocky, well we and the rest of the world were SOLD!
'Latch' with Disclosure
This is the song that launched Sam Smith into the stratosphere as an artist to truly watch over the coming years, and went on to become both Disclosure and Sam's breakthrough hit.
'La La La' with Naughty Boy
This team-up between Sam and 'Hotel Cabana' star Naughty Boy is a true dance-floor anthem and cemented Sam Smith's growing status as an artist who can break your heart with a ballad as much as he can get you moving out in the clubs.
Which was your favourite of Sam Smith's pop star duets to date? And what songs do you want the 'I'm Not The Only One' star to perform live at the Capital Jingle Bell Ball 2014 with Morrisons on Sunday 7th December?
You may also like...