Rihanna Enjoys Rollercoasters And Rides At Theme Park During 'Diamonds' Tour
5 July 2013, 11:00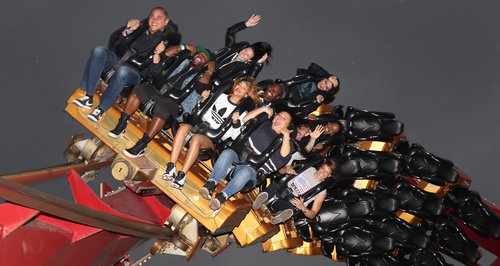 The 'We Found Love' singer couldn't keep the smile on her face as she enjoyed some time off at the tourist attraction.
Rihanna let her inner child loose this week when she enjoyed a day trip out to a European theme park.
The 'Diamonds' star made the most of a few hours off during her stay in Copenhagen, Denmark to head over to the Tivoli Garden amusement.
Rihanna was pictured throughout Thursday (4th July) enjoying rollercoaster rides and theme park attractions as she staying in the park alongside tour mates and several burly security guards.
The Bajan superstar, rocking an Adidas sweatshirt for her day out, was pictured shutting her eyes to endure huge rollercoaster the Daemon, while she looked to be having a great time on the child-themed aeroplane ride The Little Dragon.
Check out a picture of Rihanna enjoying a theme park ride with friends on her big day out below (Credit: Getty):
The 'Where Have You Been' singer was then set to perform later on in the day at the country's Roskilde Festival before heading on to shows in Poland and Austria later this week.
Rihanna slows things down with a calm train ride at the theme park, as seen below (Credit: Getty):
Rihanna has been taking her 'Diamonds' tour across Europe for the past month or so, and made a short stop in Paris this week to enjoy the Fashion Week catwalk shows.