A$AP Rocky Denies Rihanna Romance Rumours: "I Don't Look At Her Like That"
23 April 2013, 14:40
The US rapper says there is no truth to claims he and Rihanna have hooked up on the road.
A$AP Rocky has denied recent press rumours that he and Rihanna have hooked up during the Bajan star's current 'Diamonds' world tour.
The 'Goldie' rapper is supporting Rihanna on her current North American leg, and says he is "cool" with the 'Stay' singer and has outright denied claims they are romantically involved.
"Yeah I expected them to say that me and Rihanna were sleeping around," Rocky told MTV News this past week. "We're just cool.
"Man, dudes be tryin' to front like they tappin' Rihanna […] and all that, but they don't be hittin' it," he explained. "I ain't hittin' it either.
"I'm just cool with her, I don't even look at her like that. She's sexy, but I'm good," the rapper explained, referring to the fact that he is already in a relationship.
"That's really a friend, she supports me, she's bringing me out [and] she ain't have to do that," he added. "I got nothing but love for RiRi, that's the homey right there."
View a picture of Rihanna backstage on her world tour below (Credit: Instagram):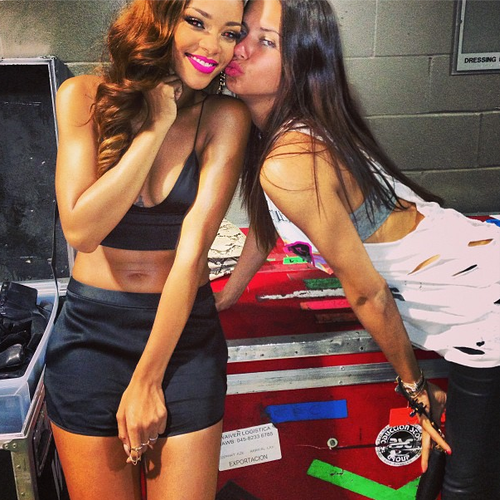 The 'Diamonds' singer is currently taking a break from her tour for a few days after performing in Florida, and was spotted clubbing with friends out in Fort Lauderdale over the weekend.
Rihanna brings her 'Diamonds' tour over to the UK starting from 10th June in Cardiff.