One Direction Rule The World! They TOP The List Of Albums Sold Worldwide!
1 August 2014, 11:14 | Updated: 1 August 2014, 11:16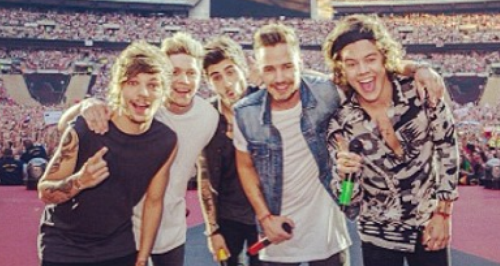 The UK artists are taking over the world as it's revealed One Direction and Adele are amongst the top selling globally
We know our home-grown exports are some of the best musical acts around, but the stats have DEFINITELY proved it.
One in every eight albums sold WORLDWIDE is by a UK artist, and One Direction have TOPPED the list!
A new report by the BPI shows that the figure accounts for 13% of all albums sold in 2013 – so it's definitely a win for the Brits!
One Direction's 'Midnight Memories' topped the list just six weeks after its release, closely followed by Mumford and Sons in second place and Adele in third.
One Direction also had a second spot at number five with 'Up All Night', proving that the #Directioners are a force o be reckoned with!
A BPI spokesman said, "For home-grown talent to have recorded the world's biggest-selling album six out of the last seven years is a phenomenal achievement that says a great deal about the popularity of British music around the world."
The best-selling albums of 2013 by UK artists are:
One Direction - 'Midnight Memories'
Mumford & Sons - 'Babel'
Adele - '21'
Robbie Williams - 'Swings Both Ways'
One Direction - 'Take Me Home'
Emeli Sandé - 'Our Version Of Events'
David Bowie - 'The Next Day'
Black Sabbath - '13'
Depeche Mode - 'Delta Machine'
One Direction - 'Up All Night'
You may also like…