One Direction's Harry Styles Parties With Rita Ora And Cara Delevingne In London
19 February 2013, 10:53
The 'Kiss You' singer is said to have partied well into the night with the 'Radioactive' star.
One Direction star Harry Styles was spotted getting close with both Rita Ora and rumoured former flame Cara Delevingne at the O2 for War Child BRIT Awards 2013 concert last night (18th February) in London.
The 'Live While We're Young' singer stayed close to the 'R.I.P.' singer and supermodel Cara for a night of partying as they watched Muse perform the charity concert at the O2 Shepherd's Bush Empire, before heading on to the Dazed & Confused party in town.
Harry opted for a simple green jacket and grey t-shirt combination while chatting to Rita backstage in the VIP area, who dressed up in a black and white patterned matching jacket and trousers and a bright pink top.
View a picture of Rita Ora and Harry Styles chatting together backstage at the event below (Credit: PA):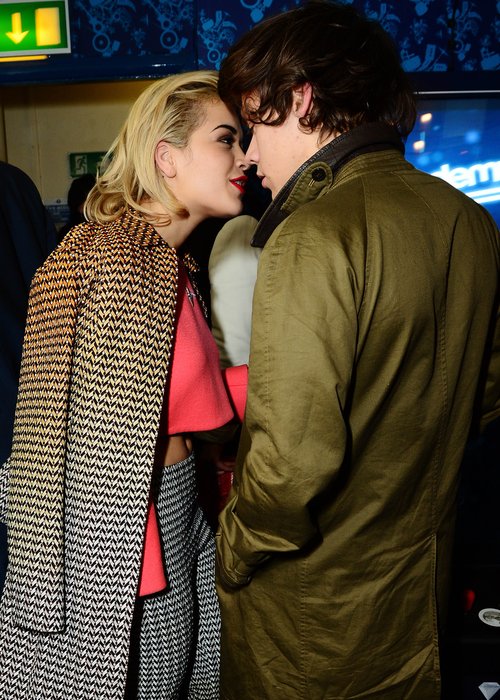 The two pop stars are said to have partied well into the night at the event, where they were also joined in the backstage area by 'Scream And Shout' rapper will.i.am.
Check out a picture of Harry Styles with Rita Ora and will.i.am at the Dazed & Confused party this week in London below:
Earlier in the evening Rita had been spotted taking in the Burberry show as part of London Fashion Week.
Harry Styles is set to join his One Direction bandmates for a performance of 'One Way Or Another (Teenage Kicks)' at the BRIT Awards 2013 tomorrow (20th February) at London's O2 Arena.
One Direction will then kick off their 'Take Me Home' world tour with a show at the O2 on Saturday (23rd February).