One Direction Bringing Family And Friends On World Tour To Avoid Being "Homesick"
29 April 2014, 12:18 | Updated: 29 April 2014, 12:21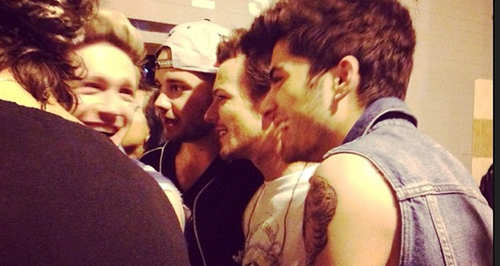 The 'You & I' stars are making plans for some special guests on tour to help them feel at home.
One Direction have reportedly arranged for their family and friends to join them on the road after kicking off their new world tour over the weekend.
The 'Best Song Ever' band launched the 'Where We Are' world tour at the end of last week with a show in Bogota, Colombia, and are said to be worried about being as homesick as they were on their last global jaunt.
"The boys got so homesick last time and wanted to make sure they had friends and family with them during this tour," a source told The Daily Star this week.
"Harry has divided up dates between his parents, sister and mates so he isn't by himself for much of the tour," they continued. "Harry's dad Des and mum Anne will fly out separately during the American leg.
Harry's bandmate Niall Horan has also allegedly arranged for various friends to join the band on the road, while Liam Payne and Louis Tomlinson want their girlfriend along as well.
"Niall has a close-knit group of mates from Ireland and he wants them to be there," they added. "Louis and Liam also hope to have their girlfriend travelling with them for most of the time, and Zayn will see his fiancee [Perrie Edwards] as much as possible.
You may also like: