One Direction's Harry Styles Has Been Getting Fitness Tips From WHO?!
27 August 2014, 12:27 | Updated: 27 August 2014, 16:39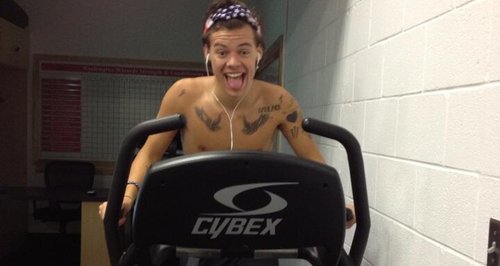 The 1D heart throb has taken up the military exercise Krav Maga on the advice of an unlikely Hollywood veteran
We recently brought you the news that Harry Styles had turned down a movie role offered to him by Harvey Weinstein, but it wasn't Harry's only brush with the Hollywood elite…
Harry has reportedly started training in Krav Maga, a self-defence system developed for the military on the advice of… Clint Eastwood.
Yep, the unlikely pair are apparently pals, and the 84-year-old movie legend advised Harry that Krav Maga is the best way to keep fit.
A source told The Sun, "Clint spoke to Harry about his future in Tinseltown. They discussed movie projects and then got on to the subject of achieving an action hero's physique."
"Clint had plenty to say on what Harry should do if he ever wanted to be considered leading man material."
Hazza is no stranger to the gym – and we thank the lord of all things HOT that he occasionally posts topless snaps and videos of himself, mid-exercise – but the grueling regime involves more than just lifting weights.
Krav Maga combines elements of boxing, wrestling, Muay Thai, Judo, Jujitsu and street fighting to whip devotees into shape.
In fact, Clint's advice went down so well with the rest of the One Direction lads that Liam Payne and Louis Tomlinson are also getting on board with the regime.
The source said, "Louis and Liam are also raving about KM now. They've even been having a body competition – comparing their biceps over Instagram!"
You may also like...