Olly Murs Joined By Rizzle Kicks During Summertime Ball 2013 Performance
9 June 2013, 19:54
The Essex star wowed with some of his biggest hit singles in front of the Wembley crowd.
Olly Murs was joined by fellow Summertime Ball 2013 stars Rizzle Kicks during his appearance at Wembley Stadium today (9th June).
The Essex star warmed up for his upcoming stadium tour with Robbie Williams today making his debut at the event.
Performance Review: Olly was on fine form and was clearly enjoying himself on the Wembley Stadium stage as his brought his biggest hits to the Summertime Ball 2013. The former X Facto signer launched into his hit single 'Army OF Two' after jumping from below the floors to the delight of the crowd. He then asked "Who's ready to dance with me?" before treating the crowd to 'Dance With Me Tonight'.
He was introduced on stage by Justin Timberlake who called the singer a "cheeky chappy" and Olly never disappointed with his witty banter, charming smile and energetic smile wowing the crowd. "Olly, Olly, Olly," chanted the crowd as they wanted more and they got their wish in the form of debut single 'Please Don't Let Me Go'.
'Dear Darlin' offered a tender moment with Olly asking the crowd to share the love and cuddle up to one another. He ended the song rising into the arena. He got the crowd jumping as he hit the first notes of 'Heart Skips A Beat' with the Rizzle Kicks boys joining him half way through. The set was finished with a rocking performance of the Flo Rida featuring single 'Troublemaker'. Olly took a bow and will now prepare to be back again in a couple of weeks alongside Robbie.
The Song When Everyone Was Fangirling: 'Dear Darlin'' - the latest single saw many a teary eye inside Wembley as the star slowed things down for the tender ballad and asked the crowd to cuddle their neighbour.
What Was Olly Murs Wearing: The singer was decked out in trademark pork-pie hat, short skinny jeans and an off-pink blazer.
The Most OMG Moment: The chants of Oly's name was something the singer was clearly taken aback and it was a fine moment for the singer who has gone from X Factor runner-up to one of the biggest solo stars the UK has to offer.
View From The Vine:
Setlist:
'Army Of Two'
'Dance With Me Tonight'
'Please Don't Let Me Go'
'Dear Darlin'
'Heart Skips A Beat'
'Troublemaker'
In A Tweet: "Olly, Olly Olly!"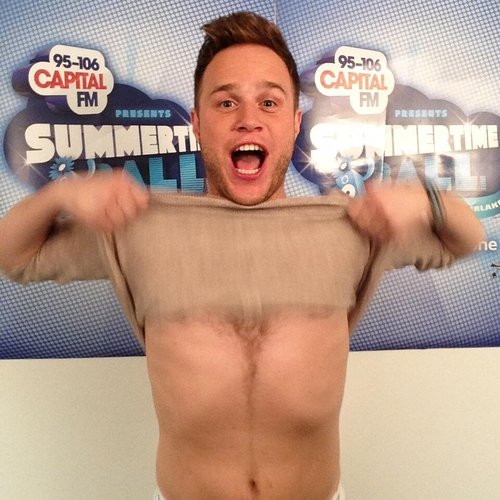 Keep it Capital for all the action from the Summertime Ball.

On Capitalfm.com, we're bringing you all the latest news, gossip, pictures, videos and performances from the event, and stay tuned to our live blog for the best backstage action.