Olly Murs: 13 Ways He Made Our Heart Skip A Beat At The Jingle Bell Ball 2013
17 December 2013, 08:00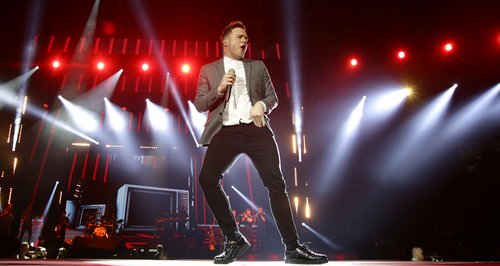 One week after Olly lit up the stage for this year's Jingle Bell Ball 2013, take a look back at the moments that made the UK star's set one to remember...
Olly Murs gave a huge performance at this year's Jingle Bell Ball 2013 as well as enjoying some backstage antics with Capital behind the scenes at London's O2 Arena.
Look back at Olly's day out for the Jingle Bell Ball 2013 with 13 unforgettable moments from the 'Hand On Heart' star...
1. When that O2 Arena spotlight hit and Olly put on his game face for the show (Credit: Richard Johnson):
2. You could tell Olly couldn't wait to get on the Jingle Bell Ball stage even before his curtain call!
It's @958capitalfm jingle Bell o'clock time.... Opening show tonight!!

— Olly Murs (@ollyofficial) December 7, 2013
3. Chatting backstage Olly gave a cheeky interview to Capital about what fans could expect from the set, as well as what's next for him in 2014!
4. Happily (or sadly for some fans!) Olly's jeans made it through the night unscathed! (Credit: Danny North):
5. We reckon it was Max's stretching tips earlier in the evening that helped Olly avoid another trouser rip!
6. Of course the UK star's incredible performance of Vodafone Big Top 40 number one 'Troublemaker' was ALWAYS going to be one of the night's highlights:
7. And it wouldn't have been right if the Rizzle Kicks boys didn't join our Olly on stage for some antics (Richard Johnson):
8. And (of course) their performance of 'Heart Skips A Beat' got EVERYONE up out of their seats:
9. What a show... and check out all those pyrotechnics! (Richard Johnson):
10. Olly even tried his hand at a bit of twerking... along with some perhaps unfortunate stage lighting!
"@laurenmursxox: @ollyofficial twerkk pic.twitter.com/DWj0nWk3WG" HEY look my arse is lighting up the O2 haha

— Olly Murs (@ollyofficial) December 7, 2013
11. The UK star made sure to make the festive occasion feature a bit of Christmas spirit with this cover:
12. Olly made sure to bring along the emotional numbers as well as the high-octane hits with a performance of fan-favourite 'Dear Darlin':
13. He even took a leaf out of Lady Gaga's book... and lived for the 'Applause' to round off his set! (Credit: Richard Johnson):