Pop's Cheekiest Duo - Will Olly Murs' New Album Feature A Robbie Williams Collab?!
8 July 2014, 12:03 | Updated: 8 July 2014, 12:06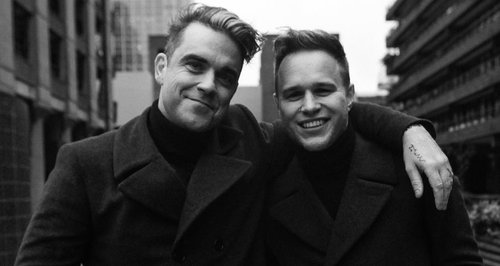 Olly Murs has been hard at work on his next album, but what can we expect from the cheekiest lad in pop – and will it feature a collaboration with Robbie Williams?!
The lovely Olly Murs has been lying low for a while, but is set to be back on our radios later in the year as he prepares to release his new album – and it may feature a very special collaboration!
Yep, one of the cheekiest pop lovelies may possibly be teaming up with another cheeky chappy – Olly told The Daily Star, "I did do a track with Robbie but we haven't quite finished it yet. We might have to do it again if it's going to make the album."
Whether or not the collab makes it onto the final album, Olly is still a massive fan of his close pal Robbie - he's even been checking out Robbie's latest shows.
"@k24smithers: @ollyofficial am off to see Robbie on wed at O2, have you seen the show or will u be there? xx" watched it in Belgium! Class!

— Olly Murs (@ollyofficial) July 7, 2014
We are VERY excited for the potential collaboration, but what else can we expect from Olly's next offering? He said, "I think I have three or four big singles, it's just putting them in the right order. I'm just trying to take it to another level and hopefully this album will move my career forward again."
But we do have a little while to wait before we can hear what Olly has been working on – he's heading back to LA to work on some new tracks. He said, "The new album is done. I'm doing a bit more writing in LA in a couple of weeks but that's just to see what happens. As far as I'm concerned I'm happy with what I've got. I love it. The album will be released in November with a single just before that." If it's anything like his last number one album 'Right Place, Right Time', we can't wait to get our mitts on it!