Olly Murs' Fans: 12 Ways To Know You're Part Of The #MursArmy
16 January 2015, 09:16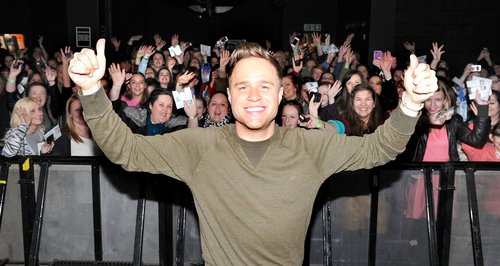 With the #BestFans2015 voting wide open, take a look to see why Olly is the only man for you.
He's the cheekiest chap in pop, one of the most successful acts EVER to emerge from The X Factor and has a legion of adoring fans known as the #MursArmy.
But is all of that enough to win the race to #BestFans2015? Before you cast your vote, join us as we look at the many reasons you, we and EVERYONE loves Mr. Murs.
1. Of course, you got your copy of Olly's book way before anyone else

2. Because you know that if you were Robbie, you'd deffo return the favour

3. You think no one else looks better in a pair of tiny boxers. Wit-woo!

4. This video just proved to you that Olly would make THE perfect boyfriend (so you just had to watch it approximately 400 times)...
5. You've always known Olly was special. Like, REALLY special.

6. You know going to a Halloween party with him would be the absolute ultimate night out (hiya Haz!)

7. He's got the BEST sense of humour. Who else would be so cool about us putting their mum being on TINDER... And then seeing if the likes of Calvin Harris, Usher and David Guetta would swipe right?!
8. You love his football banter. (Well no, you definitely don't but you can PRETEND to).
No real response from the UNITED team 1st half lacking urgency in our play..Agree with KEANO.. MOYESY is making too many changes every game.

— Olly Murs (@ollyofficial) December 10, 2013
9. When Olly came back bigger and better in 2014, and you just couldn't stop dancing around to 'Wrapped Up' no matter how hard you tried...
10. And then he performed at our Jingle Bell Ball and you were 100% DONE with how perfect he was.
11. Because sitting on Olly's lap would be the best Christmas present of all...
12
. And when you go to bed, this is the last thing you think of...

You may also like...