Dance Like Olly Murs: 8 GIFs To Help You REALLY Pick Up The Ladies
14 May 2015, 07:00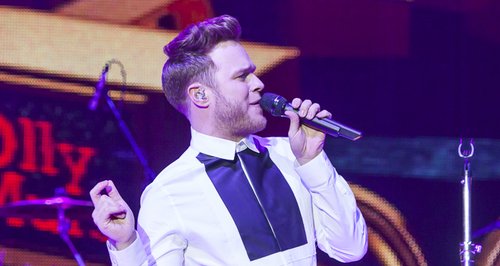 Are your dance moves a little rusty? Need a crash course on how to throw down some sweet shapes? Then Olly Murs is the man you NEED in your life right now.
We've all been there. You're looking fresh, you got those new shoes from Topman that you couldn't really afford but bought anyway and then your ALL-TIME favourite jam comes on in the club.
It's time to panic. Not only are your legs starting to move without your brain telling them to, you've have started to sweat and it's spoiling that perfect quiff you somehow fashioned after having to run for the train two hours earlier.
In your mind's eye, you're a cross between Justin Timberlake and Michael Jackson however it's clear to everyone that you are more like Simon from the Inbetweeners.
It is at this point that we are going to have to step in and share with you some of Olly Murs' best moves to help you out of this all too embarrassing situation.
1. Style out EVERYTHING.

Even if you are just walking out of a shop , add a little groove to your walk (even if you risk looking like you're busting out a Dad-dance).
2. Master the classic MJ crotch grab.
Attempt this at your own risk. Capital FM are not liable for any resulting slaps to the face that may incur.
3. Try out the never-ending windmill.
Nothing shows how sexy you are than spinning round and round like a 12 year old high on fizzy lemonade.
4. Embark on some synchronised finger clicking.

You DEFINITELY need to do this with a few friends. If you try it on your own, people will run away from the 'weird dude who always clicks his fingers wherever he goes'.
5. Attempt the 'original Olly' groove.
You'll never do as well as Olly, but you can give a right good go!
6. Do your best impersonation of Queen Bey…via Olly.
Even Olly himself steals a few moves. So 1. Put your arm on your hip. 2. Shake it like a polaroid picture. 3. Try not to look stupid.
7. Be the ULTIMATE show-off.

Nothing impresses the ladies more than being able to dance on a railing above a canal? #Maybe
8. End the night with a huge GRAND FINALE!
At this point, all eyes should be firmly focused on you, so it's time to go out with a bang!
You may also like...
Watch Olly Murs' awesome performance of 'Dance With Me Tonight' at the 2014 Capital Jingle Bell Ball.