Miley Cyrus Slams The Fake Pregnancy News And Calls It A Tofurkey Baby
24 November 2017, 16:05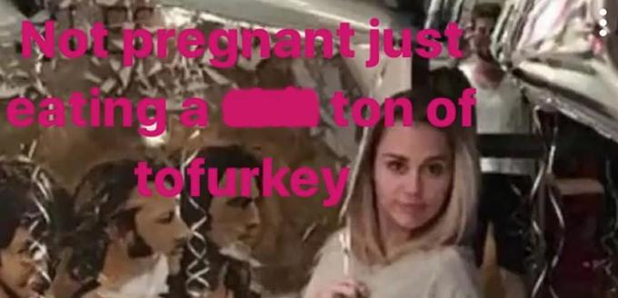 Chill out, guys.
Miley Cyrus made everyone go a bit crazy after posting a pic of herself cradling her belly on Wednesday but it turns out that the suspicious looking 'baby bump' was actually just the result of a lot of Tofurkey. And yes, Tofurky is actually a thing.
Shutting down all the speculations with a post on Twitter, the 25-year-old wrote: "RUDE!!! Not pregnant just eating a s*** ton of tufurkey."
So guess that settles that then.
Meanwhile, the Younger Now singer recently celebrated her 25th birthday on Thursday and she had loads of fun showing off her presents from her bae, Liam Hemsworth which included a little gold rainbow necklace that says "Lili" which is Miley's nickname for him.
My mannnnnn's already winnin! Rainbow LiLi is soooo frigggggen cute! pic.twitter.com/AhQHoONZml

— Miley Ray Cyrus (@MileyCyrus) 23 November 2017
If you want to see what Miley can do with her huge tongue then you're going to wanna watch this:
> Loved this and want more celeb news? Download our snazzy new app so you don't miss out, you know you want to