Miley Cyrus Praised As "Smart And Talented" By Godmother Dolly Parton
25 April 2014, 11:40 | Updated: 25 April 2014, 16:02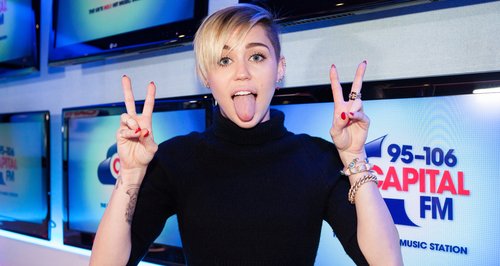 The iconic singer opens up about Miley's talent at songwriting and performing.
Miley Cyrus' godmother Dolly Parton has opened up about the "smart and talented" superstar, but admits she would like the 'Wrecking Ball' singer to not be so "drastic" in future.
The 'Jolene' singer opened up about Miley this week after the 'Bangerz' star was listed on the Time 100 Most Influential People In The World list.
"If I didn't know how smart and talented Miley is, I might worry about her," Dolly writes, as a piece in the magazine's new issue. "She was very proud of the work she did as Hannah Montana, but people were gonna leave her there forever.
"She was just smotherin' and chokin' in it," Dolly revealed. "So she felt she had to do something completely drastic.
"'Wrecking Ball' is a great song, the whole album is great," she explained. "So I'm hoping that now she can relax and show people how talented she really is, 'cos the girl can write, the girl can sing, the girl is smart.
"She doesn't have to be so drastic," Dolly added.
You may also like: