Miley Cyrus Channels Hannah Montana For A "Wild Ride" From The Police In 'NBLAH' Music Video
30 November 2018, 07:18 | Updated: 30 November 2018, 07:21
Miley Cyrus tries to escape the police as she reinvents herself in brand new music video for 'Nothing Breaks Like A Heart', with Mark Ronson.
Miley Cyrus has teamed up with Mark Ronson in the music video for their recent collaboration 'Nothing Breaks Like A Heart'.
In the four-minute-long video, Miley embarks on a wild police chase through streets and strip clubs, which the news outlets captioned as "Miley's wild ride".
> Braids, Mops And Crops… 19 Of Miley Cyrus' ULTIMATE Hair Transformations
This pays homage to the 'We Can't Stop' singer's stint as Hannah Montana, whereby in one episode, Hannah was hounded by journalists for jumping on a paparazzi's back, and the headlines read as "Miley's wild ride".
Much like that reference, Miley nods to her previous eras throughout the music video - at one point, a wrecking ball air freshener can be seen hanging from a car, and there are several photos of a younger Miley Cyrus scattered throughout.
Many fans have dissect and analysed the 'NBLAH' music video, and believe that the entire storyline is quite symbolic. Miley's car chase acts as a platform to raise awareness on issues such as police brutality and gun violence.
> Download Our App And Catch Up On All Of The #CapitalJBB Antics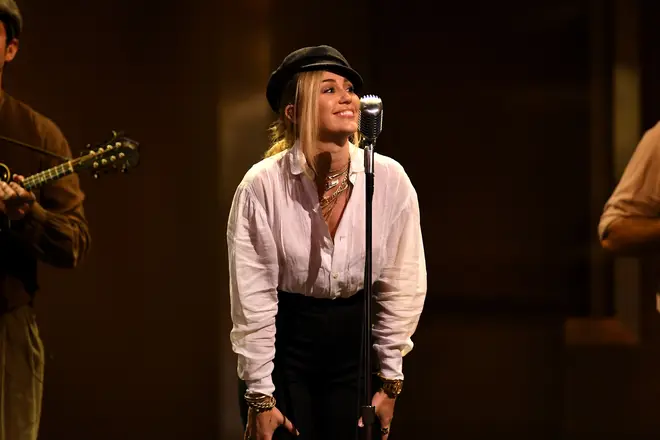 Mark Ronson caught up with Roman Kemp, Vick Hope and Sonny Jay to chat about his recent collaboration, and said that he struggled to initially get Miley on the track, after trying to text her for four years.
"I would write and say 'Hey, do you ever wanna get together and work on music?' and she would write back three weeks later saying 'What's up, dude?' and I was like 'This girl's not trying to work'." said the hitmaker.
'Nothing Breaks Like A Heart' Lyrics:
[Chorus: Miley Cyrus]
This world can hurt you
It cuts you deep and leaves a scar
Things fall apart, but nothing breaks like a heart
And nothing breaks like a heart
[Verse 1: Miley Cyrus]
I heard you on the phone last night
We live and die by pretty lies
You know it, oh, we both know it
These silver bullet cigarettes
This burning house, there's nothing left
It's smoking, we both know it
We got all night to fall in love
But just like that we fall apart
We're broken, we're broken
[Pre-Chorus: Miley Cyrus]
Mmm, well nothing, nothing, nothing gon' save us now
[Chorus: Miley Cyrus]
Well, there's broken silence
By thunder crashing in the dark (Crash in the dark)
And this broken record
Spin endless circles in the bar (Spin 'round in the bar)
This world can hurt you
It cuts you deep and leaves a scar
Things fall apart, but nothing breaks like a heart
Mhmm, and nothing breaks like a heart
[Verse 2: Miley Cyrus]
We'll leave each other cold as ice
And high and dry, the desert wind
Is blowin', is blowin'
Remember what you said to me?
We were drunk in love in Tennessee
And I hold it, we both know it
[Pre-Chorus: Miley Cyrus]
Mmm, nothing, nothing, nothing gon' save us now
Nothing, nothing, nothing gon' save us now
[Chorus: Miley Cyrus]
Well, there's broken silence
By thunder crashing in the dark (Crash in the dark)
And this broken record
Spin endless circles in the bar (Spin 'round in the bar)
This world can hurt you
It cuts you deep and leaves a scar
Things fall apart, but nothing breaks like a heart
Mhmm, and nothing breaks like a heart
Nothing breaks like a heart
Mhmm, and nothing breaks like a heart
[Bridge: Miley Cyrus]
My heart, my heart
Nothing, nothing, nothing gon' save us now
My heart, my heart
Nothing, nothing, nothing gon' save us now
[Chorus: Miley Cyrus]
Well, there's broken silence
By thunder crashing in the dark (Crash in the dark)
And this broken record
Spin endless circles in the bar (Spin 'round in the bar)
This world can hurt you
It cuts you deep and leaves a scar
Things fall apart, but nothing breaks like a heart
Mhmm, but nothing breaks like a heart
But nothing breaks like a heart
Mhmm, but nothing breaks like a heart