Fans Share Their Concerns After Jesy Nelson's Instagram Pic Showcases A Strange Mark On Her Abs
1 June 2017, 15:48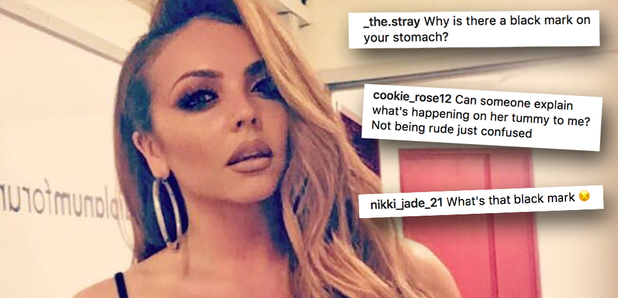 People have got all sorts of different suggestions as to what it could be...
Little Mix aren't new to photographs. Ever since they won the X Factor and burst onto the music scene back in 2011, the foursome have been snapped more or less every single day everywhere they go and regularly share pics with their followers on social media.
But Jesy Nelson's latest upload to Instagram has caused fans to respond with some curious comments due to a mysterious mark on her abs...
> Little Mix Will Be Joining Ariana Grande's Manchester Benefit Concert With Justin Bieber, Katy Perry & More!
Nope, we've got no idea what the mark is, but plenty of fans have been offering suggestions. One Insta user commented 'What's up with the mark? Are you okay Jesy? Xx' whilst another simply wrote, 'Is that a bruise??'.
Some fans were suggesting that the black mark was due to the filter Jesy had used on the pic, claiming the filter had accidentally highlighted her muscle, whilst others believed the mark was actually a bruise.
Jesy hasn't yet spoken out about exactly what the mark is and what caused it, but tbh we totally think that she still looks super fierce in the picture.
(Pic: GIPHY)
The Little Mix ladies are currently enjoying their tour and will also be joining Ariana Grande, Justin Bieber, Katy Perry and more on stage in Manchester as part of the 'One Love Manchester' tribute show dedicated to all those affected by the recent tragic events in the city.
> We'll Be Bringing You Live Coverage Plus All The Latest News & Info On Ariana's Manchester Benefit Concert, So Download Our App To Stay Up To Date
You may also like...