Lady Gaga Reveals 'Telephone' Sequel Was In Her iTunes Festival 2013 Set - Audio
2 September 2013, 11:25 | Updated: 2 September 2013, 16:45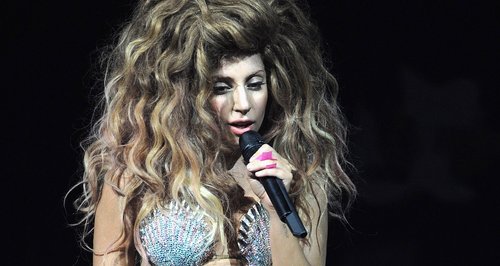 The 'Marry The Night' singer also hints that Beyonce will be back on the track when her album drops.
Lady Gaga has revealed she performed the sequel to her huge Beyonce collaboration 'Telephone' during her set at iTunes Festival 2013, but has yet to reveal which song it is.
The 'Applause' singer kicked off the month-long music festival with a performance at the Camden Roundhouse in London on Sunday evening (1st September), and says her long-awaited sequel to 'Telephone' was included the setlist.
Gaga claims the song in question is one that fans "can't miss", before teasing that if they react well to the track it may see release sooner than they expect.
"Well it's going to be played at iTunes," Lady Gaga revealed to Max ahead of her iTunes set. "I'm not going to tell the fans which song is the end of the trilogy.
Check out a picture of Lady Gaga performing live at the festival below (Credit: iTunes):
"I know which one that it is, but it's really more about what they scream about after iTunes to my label and on Twitter and on LittleMonsters.com," Lady Gaga teased. "If they choose it they'll get it sooner.
"You definitely can't miss the song, it's a big bombastic fun song, so I'm quite sure they'll know exactly which song they want to hear next," she added.
Lady Gaga performed seven brand new 'ARTPOP' songs during her iTunes Festival set, seen below (Credit: iTunes):
Gaga, who teamed up with Beyonce on both 'Telephone' and Beyonce's hit 'Videophone', also hints that the 'Love On Top' singer could well feature on the new song.
"Well who knows, anything's possible at the end of this trilogy!" Gaga teased.
Lady Gaga's performance at iTunes Festival marked her first full set since the end of her 'Born This Way Ball' world tour back in February, which finished early due to the US star's hip injury.
Lady Gaga releases new album 'ARTPOP' on 11th November.
Listen to Lady Gaga chatting to Capital FM's Max about the 'Telephone' sequel below:
Lady Gaga Opens Up On 'Telephone' Sequel...
Check out the full setlist for Lady Gaga's iTunes Festival 2013 performance below, and below:
'Aura'
'MANiCURE'
'ARTPOP'
'Jewels & Drugs'
'Sex Dreams'
'Swine'
'I Wanna Be With You'
'Applause'