5 Things We Know About 'Chromatica': As Lady Gaga Drops Ariana Grande Collaboration 'Rain On Me'
22 May 2020, 13:37 | Updated: 22 May 2020, 13:41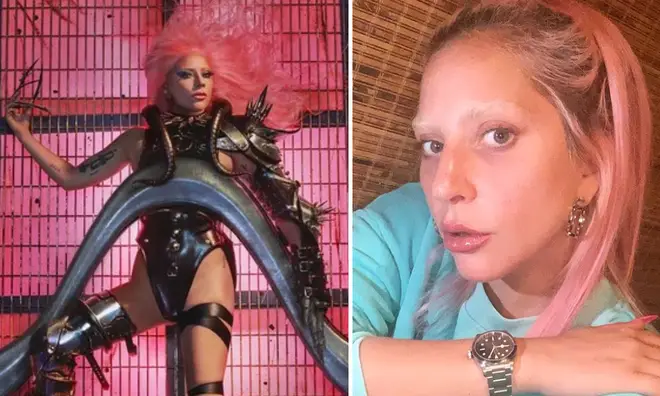 Lady Gaga's 'Chromatica' is dropping on May 29th, exactly one week after the release of her Ariana Grande collaboration, 'Rain On Me'. Here's everything we know about it...
Lady Gaga burst onto the scene with her debut 'The Fame' in 2008. The hit record peaked at number two on the Billboard 200 and went on to sell over 15 million copies worldwide.
Fast forward to 2020, and Mother Monster is gearing up to drop her sixth studio album, 'Chromatica'.
So far, we've heard the lead single, 'Stupid Love,' and the Ariana Grande collab, 'Rain On Me,' which is already being hailed as 'anthem of the decade'. But what do we know about it so far? Is there a tracklist? What is the release date? Let's take a look...
Lady Gaga Kisses Mystery Man On New Year's Eve As She Parties In Las Vegas
What's Lady Gaga's new album title?
The album is officially called 'Chromatica'.
Lady Gaga made the announcement in an Instagram account.
She titled the post: "Welcome to "Chromatica", coming April 10. Pre-order now.
A few weeks later, she released the official artwork, giving fans a real feel for her new era.
We're so here for this hot pink colour scheme!
What is the lead single off the album?
'Stupid Love' is the lead single, which dropped on Friday 28th February.
The song leaked back in January and Mother Monster begged fans to 'stop' sharing it and wait for it to be released like the good old days.
Gaga also dropped a magnificent video to accompany the track and we're so here for this pink hair look...
Is there a track list?
Yes, we finally have the track list, and it confirms some huge collaborations with Elton John and Black Pink.
Is there a release date?
It was originally set to drop on April 10th but Gaga pushed the date back due to coronavirus.
She posted a statement on social media explaining her reasons and said it 'just didn't feel right' to drop an album in the middle of the pandemic.
It will now be dropping on May 29th.
What has Gaga said about the new album?
Gaga opened up to Paper Magazine about the new record and said it's named after a world 'that celebrates all things' and where 'no one thing is greater than another'.
> Grab Our App For The Latest Celebrity News And Gossip