Justin Bieber Turns To Rapper T.I. For Advice In The Wake Of Arrest
14 February 2014, 12:30 | Updated: 14 February 2014, 12:31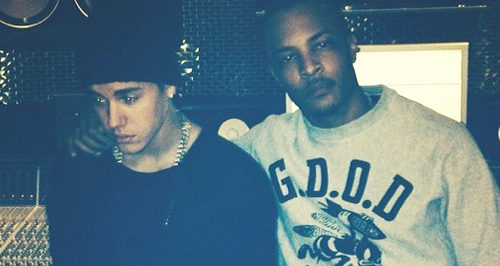 The 'Confident' singer has been getting advice from 'Live Your Life' star T.I. this past few weeks.
Justin Bieber has reportedly been turning to US rapper T.I. to help him through his recent difficulties, all while also working on new music in the recording studio.
The 'What You Know' rapper was pictured with Justin last weekend, and now says he is helping give the Canadian pop star advice after his arrest back in January.
"Justin has really been calling me just to help him navigate himself through, from where he is to where he has to be," T.I. revealed to MTV News this week. "I told him I understand what it's like, to not only have to grow up as a man, but have to grow up in the public eye as a celebrity."
The 'Live Your Life' rapper went on to say that he will always be on Justin's side, no matter what happens.
"[My aim is] joining forces with whomever is on the side of Justin and giving him the best possible shot at success," he added.
'All That Matters' singer Justin has been back working hard in the studio over the past week, sharing several teasers with his fans on Twitter.
all about the music.

— Justin Bieber (@justinbieber) February 14, 2014
Justin Bieber released his digital-only album 'Journals' at the end of 2013 and is now working on the follow-up to 2012's 'Believe'.