Ed Sheeran Admits He ALMOST Quit His 'Thinking Out Loud' Video
15 October 2014, 11:44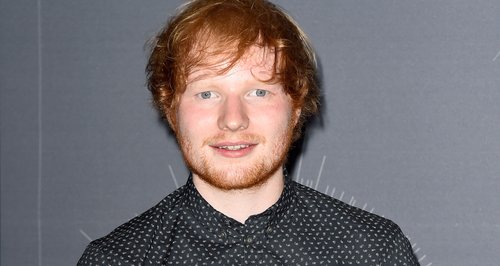 The UK star opens up about how hard it was training to dance in the new 'X' video.
Ed Sheeran has admitted he came close to quitting at times while training and rehearsing for his dance-heavy music video to 'Thinking Out Loud'.
The 'Don't' superstar surprised many fans when his video dropped last week as he is seen ballroom dancing with a beautiful lady throughout the stripped back, choreographed promo.
But Ed says it wasn't as easy as it looks, and admits he struggled with whether or not to appear in the video at all at times.
Ed Sheeran On The Video For 'Thinking Out Loud'...
"My thought process for it was that I don't need to do this, I'm a musician," Ed explained exclusively to Capital's showbiz reporter Kevin Hughes. "I don't need to be in the video. I'm only doing this as a personal thing, like thinking I could dance.
"And when it started getting really tough, that part of me started kicking in. Like why am I doing this? I should be focusing on the concert I'm playing tonight rather than busting my balls to make sure this video works,' he recalled. "And then, I don't know, I rarely start something that I don't finish.
I find giving up halfway through is one of the worst qualities that you can have, so I just made sure I finished it. And it worked out!"
The UK singer-songwriter also spoke about how 'Thinking Out Loud' is becoming a popular first-dance song for couples getting married, and says he's very proud of that.
Ed Sheeran on people getting married to 'Thinking Out Loud'...
"Yeah. With the new one ['Thinking Out Loud'] I'm surprised by how many people are having that as their first dance," he added. "Coleen Rooney and all of her [Liverpool] mates turned up to a gig and all of them were like, 'Oh, my mate got married to your song!'"
Ed previous promised fans it may well be the best video he's ever done, and it seems the #Sheerios were't disappointed.
"It's the best video I've ever done and probably will ever do," Ed vowed to MTV News earlier this month. "It's incredible, and I don't say that lightly. It's legit!
"It's all one shot at the moment. I think we might do cutaways and stuff, and I learned to do something very different," he explained. "I want the video to come out and everybody be like, 'What the hell is he doing?' Just something that is going to shock you.
Ed Sheeran is currently taking his new tour up and down the UK in support of his latest album 'X', and launched the music video for 'Thinking Out Loud' last week, which you can watch below:
You May Also Like…