Ed Sheeran Wows New York City With The Today Show Performances - Video
13 July 2013, 10:04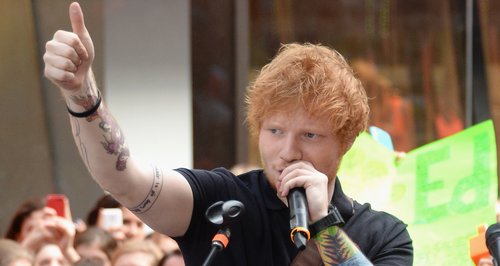 The 'Everything Has Changed' singer performed to the "biggest" crowd on the US morning show this year.
Ed Sheeran continued his US dominance this weekend when he gave a huge performance to thousands of fans on The Today Show.
The 'Lego House' singer drew one of the show's biggest ever crowds for his set in New York's Rockefeller Plaza on Friday (12th July).
Reports suggest fans of the UK singer-songwriter had been queuing up since Wednesday to make sure they got a good spot to watch his performance, which included fan-favourites like 'The A Team', 'You Need Me, I Don't Need You' and 'Lego House'.
"New York, they are saying this is the biggest crowd they have had this year," Ed tweeted shortly before his performance Friday. "It hasn't even started yet, thank you all so much for coming."
Watch Ed Sheeran performing 'Lego House' on The Today Show below:
"My nana always said if you can make it in New York you can make it anywhere," Ed revealed during his appearance.. "I'm just overwhelmed by it."
Check out a picture of Ed Sheeran performing live on The Today Show below (Credit: Getty):
Earlier this week Ed made an appearance on a radio show in America which saw him performing a freestyle rap cover of Britney Spears' 'Hit Me Baby One More Time'.
Check out a clip of Ed singing 'You Need Me, I Don't Need You' below:
Ed Sheeran has promised fans they will hear new music by January next year ready for the release of his second studio album.
Finally Ed performing his first US hit 'The A Team', as seen below: