Ed Sheeran Confirms He's Single And Reveals How He Lost 20 Kilograms In Weight
27 March 2015, 11:57
The 'Thinking Out Loud' star has sadly split from Athina Andrelos after a year of dating, but surprised one couple with an impromptu performance at their wedding. Aww!
Sad pop relationship news alert – Ed Sheeran has confirmed that he has split from his girlfriend of one year, Athina Andrelos. Sadface!
Our favourite ginger star confirmed the news on an Australian radio station that the pair broke up after last month's BRIT Awards. When asked whether he was single Ed answered "yes" but added, "I wasn't single, I was in a relationship for a long time. Erm … well that's interesting, that's the first time I've spoken about that."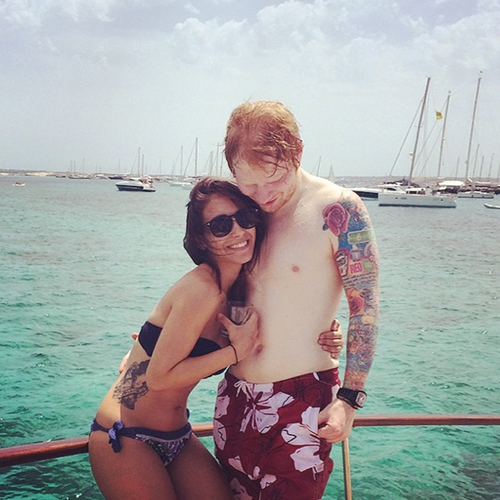 While Ed is still coming to terms with the end of his relationship, he has also revealed that he managed to get his new trim physique – and lose a HUGE 20 kilograms – by cutting down his bad post-gig habits.
He revealed, "I'm watching what I eat and I'm staying inside. I put on a lot of weight a couple of years ago [from] drinking beer."
"I used to be like nine stone, and then I was like 15 stone and now I'm 11 stone. The main thing I cut out was eating after shows. I'd get off stage and eat a pizza. Now I eat before a show, play, go to bed."
As well as eating better, Ed has swapped calorie-heavy beers for "red wine, vodka and tequila sunrises". Classy!
During his time in Australia, Ed also managed to make one couple's LIFE by turning up as a surprise performer at their Sydney wedding this week.
Ed shared a photo on Instagram with the caption, "Just surprised this lovely couples first dance. Available for weddings, birthdays and bar mitzvah's, contact your local super market for details."
Ed performed 'Thinking Out Loud' for the loved-up couple who had won their dream wedding through the radio station when it was revealed they had spent their wedding fund on the bride's mother's funeral when she sadly passed away.
You May Also Like: