Ed Sheeran Says Partying With PSY Inspired 'Sing' Video
12 June 2014, 10:57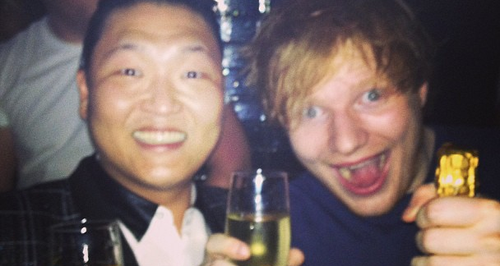 The 'A Team' star says the idea came to him after he spent a night partying and singing with PSY.
Ed Sheeran has revealed that a heavy night out with K-Pop sensation PSY inspired the music video for his single 'Sing'.
The 'Lego House' star, who hit number one on the Vodafone Big Top 40 with 'Sing' recently, says the idea for the party-fuelled music video came after he partied with the 'Gangnam Style' sensation.
"Basically the 'Sing' video usb based on a night out I had with him and loads of his Korean mates," Ed revealed to MTV this week. "I went out on this night out with PSY and everyone was wearing a PSY mask in a Korean restaurant […] and I didn't know which one was PSY, I had no clue.
"I eventually found out who PSY was and he's just a monster when it comes to [partying]," he recalled. "So anyway, I had this night out and that's what inspired the 'Sing' video with all the dancing and karaoke and stuff."
Ed went on to reveal he is a big fan of the 'Gangnam Style' rapper, who has just released the music video for his new Snoop Dogg team-up 'Hangover'.
"[PSY] just did a remix for 'Sing', and it's sick, and it's the coolest thing I've ever heard," he added.
You may also like:
You may also like...