Ed Sheeran "Completes Mission" To Hang Out With PSY After Billboard Music Awards 2013
20 May 2013, 15:35
The 'Lego House' singer celebrates the evening with the K-Pop star in Las Vegas.
Ed Sheeran took to Twitter this morning (20th May) to reveal that he completed his goal to share a drink with 'Gangnam Style' star PSY.
The 'You Need Me, I Don't Need You' singer had logged onto his social networking account yesterday morning to say that he was determined to bump into the K-Pop star after the Billboard Music Awards 2013.
"Day of billboard shenanigans. my goal is to have a drink with Psy, coz he seems like a lad," he wrote.
Both stars were in attendance for the event in Las Vegas and posed together at an after-party.
"Dunno if I fit in tonight but I enjoyed it, now to drink....," Ed also tweeted following the climax of the event itself.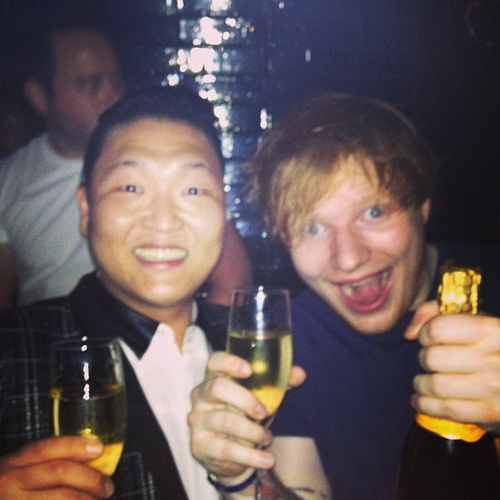 He posted the shot of the pair on his Instagram account with the caption "mission completed."
Meanwhile, Ed's touring partner Taylor Swift was named the big winner on the night after winning a total of eight awards including Top Artist.
She also performed her hit single '22' with Ed also performing 'Lego House'.