Ed Sheeran Calls Meeting Paul McCartney And The Queen His "Wildest" Career Moments
18 July 2013, 13:51
The 'Lego House' star also speaks about playing poker with Bill Clinton and performing for Robert De Niro.
Ed Sheeran has called meeting The Beatles legend Paul McCartney and The Queen some of his biggest ever career highlights.
The 'You Need Me, I Don't Need You' star told Buzz Feed that he's got to meet a few famous faces and considers them both very special.
"Maybe meeting Paul McCartney or the Queen? I played at the Queen's Jubilee. It was really cool," he said.
The British star also recalled a recent time where he got to play poker with Bill Clinton the other day calling it pure "random".
"I bought a saxophone and got him to sign it," he added. "De Niro, that was a big one. I played the opening of De Niro's hotel."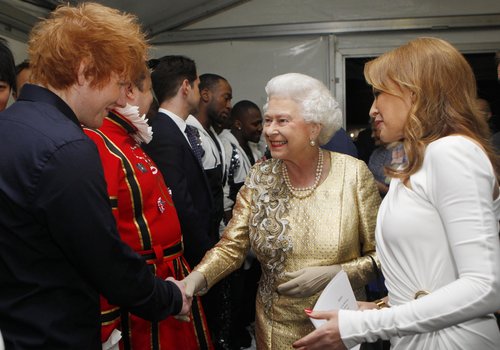 Ed caused a stir with his Lord Or The Rings sword on a plane with Taylor Swift earlier this year and said meeting the director of the movie was fantastic.
"Peter Jackson, the guy who did the Lord of the Rings films, he invited us around for dinner. Just a lot of random wicked things have happened. It generally is the greatest job ever. Every single day there's something mental that happens," he continued.
Meanwhile, Ed is currently on the road with Taylor Swift and recently was named among the nominations for the MTV VMAs 2013.