Ed Sheeran Teases New Album And Reveals He's Written A "Happy Song"
7 May 2013, 11:36
The 'Lego House' singer asks "what the hell is happening" as he continues to talk about his second record.
Ed Sheeran has once again been teasing details of his new album and took to Twitter during the early hours of this morning (7th May) to reveal he has written a "happy song".
The 'You Need Me, I Don't Need You' star logged onto his social networking account to inform his fans of his surprise at the new track.
"Wrote a happy song. What the hell is happening," he said.
The singer also teased some of the recordings for a few new tracks.
"Time to watch another geezer film after a day of recording with @johnnymcdaid. 4 songs, not a bad days work John," he added.
Check out a picture of Ed hanging out with Taylor Swift and Austin Mahone on the country singer's 'Red' tour below: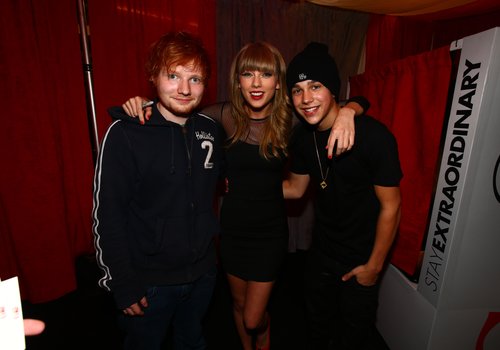 Meanwhile, the British singer has also revealed that One Direction have already completed work on their next album.
Despite penning two tracks for their 2012 record 'Take Me Home', the star revealed he hadn't worked on any of the new material from the boy band.
Ed Sheeran recently revealed he has given himself a deadline of December to finish his second studio album.