Ed Sheeran Finishes Work On New Album And Celebrates With Producer Rick Rubin
5 December 2013, 10:01 | Updated: 5 December 2013, 13:27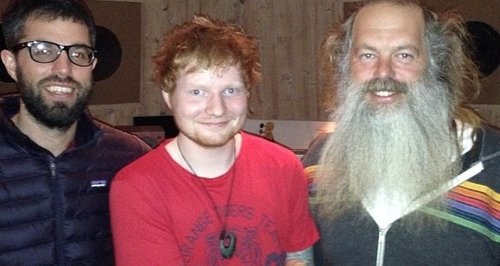 The 'Small Bump' star reveals he has finished work on the follow-up to his debut album '+'.
Ed Sheeran has tweeted fans to reveal that work on his brand new album is finally finished.
The 'Lego House' star has been steadily working on new music for his second record for over a years now.
Ed posted on his official Twitter account last night (4th December) to celebrate finishing work on the record, alongside the likes of legendary producer Rick Rubin and regular collaborator Johnny McDaid from Snow Patrol.
"2 years of record making right there folks," Ed posted alongside one picture, before adding: "Finished. And I managed to get Rick to smile in a photo."
Check out a picture of Ed posing with his good friend Johnny after finishing work on the project below (Credit: Instagram):
Ed has spent time out in Nashville, Tennessee and Los Angeles over the past year while working on the follow-up to his 2011 debut '+'.
The UK singer-songwriter has previously teased a potential release date of February 2014 for his new record.